Argentina Magazine Awards Program Lit by PR Lighting Fixtures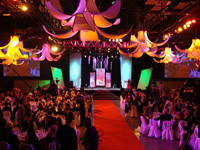 ROSARIO, Argentina — The Argentine Magazine Awards, held recently at the Salon de Convenciones Metropolitano, was lit by PR Lighting fixtures chosen by Pablo and Néstor Deligio, who run the company responsible for production, Deligio Iluminaciòn. The rig included 36 PR XL 700 spots, 12 PR Wash 1200s, 12 PR 575 spots, eight PR Design 250s and an Orland Follow 1200, controlled by two Avolites Pearl 2008 consoles.

"We are consistently impressed with the performance of the XL700 moving head in particular — it meets all our requirements in the professional sector," said Pablo Deligio. "We have been very surprised and impressed by the quality of the XL range in general — the excellent definition and power of the CMY color mix, and the very good optics."
His company first started working with PR Lighting five years ago. "We are proud to say that we now hold more PR Lighting equipment than any other company in Argentina — and it has consistently given us excellent results."

The event was attended by 300 guests, including Carlos Bermejo, who created the awards program and hosted the gala, now sponsored by Telefe, the television network, and others.
The event recognized overall gold winner, Norma Aleandro, along with Mirtha Legrand, Lola Ponce, Virginia Innocenti, Eduardo van der Kooy, Silvia Perez and Jorge D'Elia. Other VIP guests included the local governor, Hermes Binner, and mayor, Miguel Lifschitz,
For more information, please visit www.pr-lighting.com.
Leave a Comment: