Atlantis Grand Opening Controlled by grandMA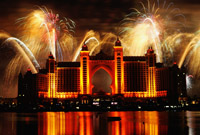 DUBAI, U.A.E. — If a single night's stay at the top floor suite at the Atlantis Hotel commands a princely sum — about $25,000 per night — it's still a pittance compared to the estimated $20 million to $32 million reportedly spent for a single night's party celebrating the mega-resort's grand opening last fall. The grand opening drew some 2,000 VIP guests, including actors, musicians and politicians, with a one-hour performance by Kylie Minogue and a fireworks display by Grucci's, which also organized the displays for the Beijing Olympics. Lighting Designer Raymond Thompson used a grandMA console to run the show.
Multiple Clay Paky Alpha Spot HPE1200 and Alpha Wash 1200 moving lights, plus 150 ETC Source Fours were used for the light show. Syncrolites were also scattered around the hotel, and a giant HD video projection sequence helped the hotel lay claim to the myth of Atlantis, rising from the sea.
Cory Fitzgerald and Steve Shipman worked as grandMA programmers. Gearhouse Staging Connections delivered the lighting, stage and sound. Andrew Stachan (HOD Lighting) for Gearhouse worked closely with Thompson to bring all elements of the lighting design together successfully.
A.C.T Lighting is the exclusive North American distributor for the grandMA.
For more information, please visit www.actlighting.com and www.malighting.com.
Leave a Comment: