Bandit Lites Opens Larger U.K. Facility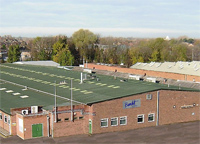 BEDFORD, U.K. — Bandit Lites, Ltd. moved their European operations into a new, larger facility. The 50,000 square foot facility includes 6,500 square feet of office space, with the remaining space divided between the Technical Services Department, the LED and Special Effects Department and the Generic and Rigging Departments. The facility also houses a virtual programming suite, storage space and enough space for Bandit to prep several lighting systems simultaneously.
Parking for a number of trucks is available in the rear of the facility, and the lot will allow for future expansion if needed. There are offices and a full kitchen available for visiting lighting designers as they work in the virtual programming suite within Bandit to program their creations before the equipment hits the road.
The new building will also include a state-of-the-art computer network, servers and Wi Fi to help keep Bandit's U.K. staff connected to the company's other locations in the U.S. and Asia. On Jan. 13, Bandit Lites loaded out UFC 93, a mixed martial arts event that stood as the first job that was fully prepped at the new facility.
"It was a great sight to see the first trucks rolling out after so many months of planning and hard work," said James Harden, Bandit UK general manager. Lester Cobrin, Bandit UK chief executive, added that's just the beginning. "We are confident that the facility will allow us to take on additional work while upholding the standard of service we are known for. There is an opportunity now to make improvements as to the way we work within a new environment."
For more information. please visit www.banditlites.com.
Leave a Comment: