Bright Looks for Stereophonics Daytime Show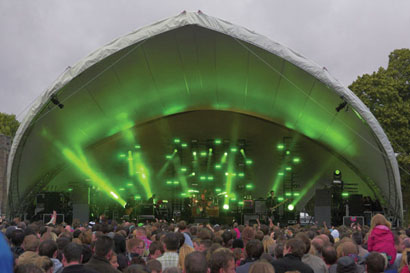 CARDIFF, U.K. – LD Tim Routledge used a grandMA2 light console for a daytime homecoming gig for The Stereophonics that required a night-time feel. The event – which saw the 10,000 tickets pegged at 1998 prices, the last time the band played the venue – celebrated the launch of their new album, "Keep Calm & Carry On."
To deal with the daylight, Routledge's rig was based on light sources that would provide the look and feel of an evening show. The saddlespan stage was tight on space, so he also made it a floor-based rig, with seven vertical trussing towers used to shape the space and create a sense of architecture at the back.
Fixtures run from the desk included 6 A&O Falcon Beam 3K searchlights used for beamwork, several Robe moving lights and a pair of ETC Source Fours, which keylit lead singer Kelly Jones.
The truss towers were interconnected with 48 horizontal scaffolding bars, supporting 250 ChromaQ ColorBlock LED units, most configured as 4-cell color changing blinders. All were pixel-mapped through the grandMA2.
There were also 2-lite blinders and Atomic strobes positioned at various points within the ColorBlock "matrix." All the lighting equipment was supplied by Blackburn-based HSL.
Routledge, a founder of grandPA, a programming house for the grandMA control platform, was asked to light this show plus a warm up at London's Electric Ballroom, following a TV special he did for the band at Cardiff's Millennium Stadium.
grandPA was among the first UK companies to invest in the new grandMA2 consoles when it was released, and Routledge used the Cardiff show as a first opportunity to use the grandMA2 light on a fully live show, running in compatibility mode.
"It's a beautifully comfortable desk to use," he said, "with ergonomics and design carefully and intelligently thought-through in all ways," adding that shows like this one offer a chance to get familiar with the new layout of the grandMA2 light.
The short programming time dictated that he had to work fast, and he credited the console's new faders and buttons for helping him busk the show.
For more information, please visit www.malighting.com,
Leave a Comment: