Brilliant Stages' Pylon Forms Center Point of U2 Tour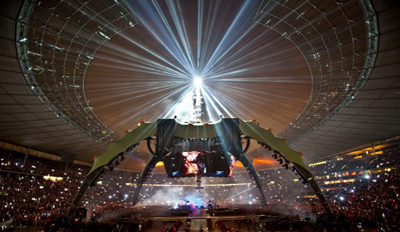 LONDON — The now-famous "Claw" designed for U2's current 360° Tour by show architect Mark Fisher and long-time U2 collaborator, show designer/director Willie Williams, forms a 28-meter high canopy over one of the largest stages ever used in concert touring. The central spire, or pylon, was created by Brilliant Stages. The pylon is 50 meters high and loaded with 34 PRG Icon 2 "Bad Boy" moving lights and two 600mm mirror balls is pivotal to the Claw's design.
"Working with Jeremy Lloyd of Stufish to Mark Fisher's design, we devised a construction that would withstand the rigors of a 44-date international tour of outdoor arenas and stadia, yet which would also be easy to erect and transport," said Tony Bowern, Brilliant Stages general manager.
The pylon, which has a diameter at its center of 2.4m and tapers towards each end, is composed of nineteen 2.4m-high sections, constructed in high-grade aluminium, with high-tensile steel connections between each.
Each section has six main 9cm diameter cords welded at each end to a 10mm profiled aluminium plate, which form the roof and the floor for the section.
Within each section is an access ladder to the sections above and below, with DWE lighting battens also integrated into the structural element.
Kevin Edwards, Brilliant Stages' CAD designer and engineer, worked on the idea of a single jig for the fabrication. The jig produced up to three sections per week with completed sections being consigned to a local storage facility before being returned to Brilliant Stages for inspection and test fitting in the final week of production.
The finished sections were then shipped to PRG for lighting installation before being finally put together with the rest of the set in technical rehearsals in Barcelona, Spain.
All structural approvals had to be checked and signed off by Neil Thomas of Atelier 1 prior to the commencement of any construction. Once in construction, Brilliant Stages used a team of two welders and employed Bureau Veritas to dye penetrate weld test each section before final sign off.
Working with Nick Evans of Live Nation, Brilliant Stages took on the challenge of erecting the massive 50m pylon into its central position. The solution was to provide three lifting points around the pylon on three 6-tonne chain hoists.
The hoists lift the pylon from the main, Stageco-built grid of the "Claw" and, as it is raised, sections are added until a second pick up is required.
At this point, the pylon is secured and the pick up points lowered to the next lifting section lower down the pylon.
This operation is repeated three times until the pylon is in its fully extended position when it is clamped into the "Claw" and permanent steel elements added as stabilizers.
To assist tour production director, Jake Berry, and his team with the speedy install and de-rig they required, each of the sections travel on their own castors and have built in fork channels.
Brilliant Stages has also supplied a removable, protective PVC panel for the orange stretched gauze cladding, which covers the structure.
"Our policy is to design sets to be crew-friendly,' said Bowern. "This is important to us, and, in turn, leads to a happy production manager!"
"We all feel that Brilliant Stages really did do a brilliant job on the pylon," said Jake Berry. "It is very user friendly and extremely efficient in the way it goes together, both for fit up and breakdown. We are very happy with the outcome."
During the install, the 34 PRG "Bad Boys" are attached to the outside of the pylon using custom brackets and rain hoods, also designed and engineered by Brilliant Stages.
Finally, the two mirror balls, one at the tip and the second, on a linear actuator, get mounted internally to the base section. These are composed of 40mm square mirrors, which help create the lighting effects seen on Blackberry's television advertising and throughout the show.
"Brilliant Stages is very proud to be involved with the biggest cutting edge tour in the world," said Bowern, "and that Mark, Willie and Jake have shown confidence in the Brilliant Stages team to develop and build the Pylon."
The U2 360° Tour, which has been playing to a succession of audiences through 15 European cities during July and August, will be followed by a North American tour in September and October 2009.
For more information, visit www.brillliantstages.com.
Leave a Comment: