Catalyst Media Server Used for U.K.'s Krypton Factor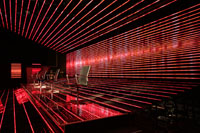 MANCHESTER, U.K. — Visuals and moving light director Svend Pedersen made extensive use of a Catalyst digital media server to illuminate and animate the set for the latest series of The Krypton Factor, recorded at Granada Television Studios for U.K.'s ITV. Designed by Dominic Toft, the set was made entirely from Perspex and Barco MiStrip LEDs, featuring a wide, shallow set of steps at the front, leading onto the stage, with a MiStrip back wall that curved up and above the stage to form a ceiling over the area, producing a cylindrical-style structure.
Pederson used a Catalyst supplied by Ross Williams, with one output making comprehensive use of the Mix Window facility to zone the output to cover each of the four contestants individually.
He used four Mix Windows per contestant plus an additional Mix Window applied across the whole MiStrip surface, running on two layers per contestant and six layers of overall imagery.
Pedersen, working with LD Tom Kinane, created all the show video content himself, some of it based on graphics and visuals provided by the producers and other elements custom-crafted for the show.
As the contestants was questioned, the overall background look across the set would be scaled down to their individual Mix Window of one of four colors — red, blue, green or yellow. Each time anyone hit their buzzer to answer, the whole set would flip to their specific color for easy identification of who was answering.
A video line input from the scoring machine was also fed into the Catalyst, allowing Pedersen to display the scores in large format across the back wall.
The Catalyst was run from a WholeHog 3 control console, and the cues were triggered by MIDI show control from Lumina, who were controlling the games machine and scoring.
"It worked absolutely beautifully," said Pedersen, who uses Catalyst on most of his shows. "The Mix Windows made it simple for me to ident each contestant, and when the producers asked if they'd be able to see the scores across the set, it was also really straightforward to make that happen for them." When each contestant was introduced, a VT was played back via a PiP window created in Catalyst.
Of the many reasons why Catalyst is his media server of choice, "simplicity is the main one," Pedersen said. "It's incredibly quick and logical to use, totally reliable and does precisely what it says on the box."
For more information, please visit www.pi-digital.co.uk.
Leave a Comment: