Chinese Arts Landmark Equipped with Robert Juliat Gear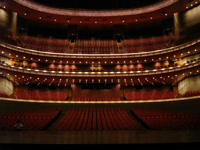 BEIJING, China — The Beijing National Centre for the Performing Arts has been supplied with a variety of Robert Juliat instruments from that company's Chinese branch, Robert Juliat China. The equipment list, as recommended by Jamie Boey, sales manager at RJ China, included a total of 24 Robert Juliat followspots: eight RJ Ivanhoe 2.5K HMI (9° – 21°), eight RJ Alex 2.5K (7° – 14.5°) tungsten units and eight long throw RJ Cyrano 2.5K HMI (3° – 8°).
The followspots are used in a variety of positions front of house, overhead and on stage across the three auditoria of the venue: the 2,500-seat Opera Hall, the 2,000 seat Music Hall and the 1,500 seat Theatre Hall. All Cyrano and Ivanhoe units were motorized with DMX controlled dimming and lamp on/off function.
Known for their optics, light output and ergonomic design, the Robert Juliat equipment got high marks from the venue's vice manager, Mr. Yan. "The Robert Juliat follow spot is an excellent product offering high performance. It is user-friendly and has a better quality of light than any comparable product — particularly for flatness of the beam — and it is extremely satisfying in every aspect."
Along with the followspots, RJ China also provided 144 Robert Juliat Brabo battens — modular, low-voltage battens that can be controlled by 1, 2 or 4 circuits—and 96 RJ Quadri Fluolights for cyc lighting. The centre also ordered five RJ Digitour portable dimmers with fluo connections to allow for a moveable power supply for the Quadri units.
"We are very happy to have supplied China's landmark building with such high quality products," said Boey. "In addition, Robert Juliat China is present to provide local support for products in which we have great faith and which bring world class quality to every performance in China's world class building."
For more information, please visit www.robertjuliatamerica.com.
Leave a Comment: