Chinese Grand Theatre Opens with Robert Juliat Gear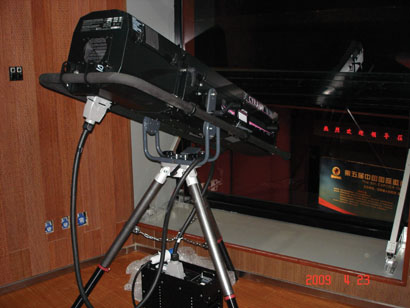 HEFEI, China – The recently-completed Hefei Grand Theatre has been equipped with Robert Juliat lighting gear, including a number of 2000W Profiles, PCs, Fresnels and followspots. Hefei, a cultural center in China's Anhui Province, is home to a style of Chinese opera that evolved from artistic forms including folk songs and folk dances. The region is proud of this cultural heritage, and the $95 million Hefei Grand Theatre is a reflection of that pride. The complex covers 57,000 square meters and includes a 1,600-seat Theatre Hall, a 1,000-seat Concert Hall and a 500-seat Theatre Studio.
Robert Juliat supplied 40 RJ714SX2 2000W Profiles, 96 RJ329HF 2000W Fresnels and 120 RJ329HPC 2000W PC units, which have been installed across the three auditoria. The Theatre Studio was equipped with 24 RJ306LF 1000W Lutin Fresnels. The Robert Juliat fixtures were recommended for their output and overall performance.
Six Robert Juliat followspots have also been installed: two RJ Cyrano 2500W HMI followspots and two RJ Super Korrigan 1200W HMI followspots for the main Theatre Hall, and two RJ Manon 1200W MSD followspots for the Theatre Studio.
"The light output and quality of the beam along with its ease of operation has sparked tremendous feedback from the users, including all the performing groups which have landed in Hefei Grand Theatre," said Zhou Liang, lighting supervisor of Hefei Grand Theatre. "We finally have our hands on the best equipment."
For more information, please visit www.robertjuliatamerica.com.
Leave a Comment: