Clay Paky Hosts Lighting Design Course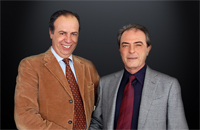 SERIATE, Italy — For the third time, Clay Paky hosted its "Show Lighting Design" course, which was organized by the Design Faculty of the Politecnico di Milano on behalf of students and technicians hoping to learn more about designing shows for the theatre and other live events. The course was divided into three modules:
Rudiments of Show Lighting Engineering.
Lighting Design for Live Music Shows.
Lighting Design for Theatres.
Part of Clay Paky's continuing efforts to help emerging lighting designers hone their skills, the course was held at the company's showroom in Seriate, Italy, which was converted into a real stage for hands-on learning.
Noted LD Giovanni Pinna led one of the hands-on sessions, which split the class in two so each group had a chance to apply what they had learned. Attendees ranged from students to working professionals.
"Lighting designers are today very important figures in any live, theatrical or television production," said Renato Ferrari, Clay Paky's Italian market manager. "We are very pleased to sponsor this project because we are confident that professional training for new entrants contributes to real quality improvements in the sector".
For more information, please visit www.claypaky.it
Leave a Comment: