Clay Paky Lights Italian TV Shows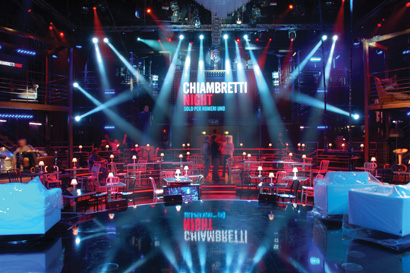 MILAN, Italy – Clay Paky lighting instruments have been used on two TV productions that aired recently on Italia 1: Chiambretti Night – Solo per numeri uno (Only for number ones), a late-night variety show conducted by Piero Chiambretti; and the 13th series of Le Iene (The Hyenas), a TV program conceived by Neri Parenti with minimalist scenery and visual references to Quentin Tarantino's film, Reservoir Dogs.
Chiambretti Night – Solo per numeri uno features interviews with entertainment, sport, cultural and political figures. The cast is composed mainly of comedians who interact with the conductor during the transmission. For Le Iene, the backdrop is a curtain of light made up of several intersecting shaped light beams.
Chiambretti Night uses a set assembled in Mediaset's studio 11, a collaboration between photography director Franco Buso (he also serves as director of photography for Le Iene) and set designer Dario Cavalletti. It all takes place inside a studio that has been outfitted as a night club with mood lighting, dancers, show girls, piano players and an audience seated at cocktail tables.
In terms of set and light design, Chiambretti Night puts more of an emphasis on atmosphere than spectacle, contrasting shades over full lighting, details over long shots, and the separate use of single effects over the additional use of lighting and video illumination technology.
"The goal was to create a night club setting, for both atmosphere as well as characters," said Buso. "I used a strictly cinematographic and non-televisional photography, opting for contrasting shades, low lighting, little movement, frequent cuts and backlighting and intense colors between blue and red these places are known for."
The light system, supplied by EleTekno, included Alpha Profile 1200, Alpha Wash Halo, Alpha Beam 300, Stage Zoom 1200 and Stage Color 1200 – all Clay Paky, in addition to a number of LED Pars and Stage Bars.
Buso, who worked with console operator Lorenzo Bassani, noted that the Profiles and color changers were used to help fill the scene and add color to the stage and the backdrops, creating a soft atmosphere, whereas the Wash Halos cast a white light onto the audience and the scene's cast.
The Alpha Beam 300s crisscrossed with other fixed ACLs and lit the musical performances, the entrance of guests and any other show features. They were assembled on the sides of the set and used mainly for backlighting and angle lighting. Buso and Bassani described the result as a "radial effect, almost like a 'reverse spaceship.'"
Buso's light design for this show was based mainly on the use of base lighting and shadows. "I really like contrasting light and shadows because they add volume to the set, all the while highlighting the character and the set decoration. There is no true focal point in the studio. Each part assumes a leading role according to the director's indications and the appearance of guests."
He also credited the Clay Paky fixtures for being "without a doubt the best moving head ACL projectors I have ever used. They have incredible 'thrust' and stand out in any context, in and especially in crowded scenes and with led screens. I used them for the concerts of Zucchero and Biagio Antonacci even as white lights, and they turned out to be perfect for that purpose."
For Le Iene, Buso noted, "we used 40 Clay Paky Alpha Profile 1200s to project rectangles of light on the back wall and build up a set consisting of interwoven light beams." The effect is of a stage curtain, but one that is very bright and with unusual shapes. "In particular they cannot work out how it becomes colored during the dance numbers," Buso said.
Buso said Le Iene was lit with a 6000 K white light made up of a large number of ETCs. "We illuminated the studio with a light similar to that used in fashion shows. It brings out the complexions of the stars and increases the contrast with the black suits, thus giving rise to the program's characteristic image."
Alpha Beam 300s and Alpha Spot HPE 575s, meanwhile, were used for Le Iene's dance numbers and breaks, about which Buso said, "It was not easy to make the graphic effects visible against such a bright white wash, but I have to say the Clay Paky lights did an excellent job. The Alpha Beams in particular are extraordinary. They are extremely bright, quick and versatile… a true innovation in TV lighting"
For more information, please visit www.claypaky.it
Leave a Comment: