Consoles Speed Visual Tune-up for Red Piano Tour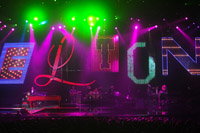 BIRMINGHAM, U.K. — LD Kevin "Stick" Bye and Tim Routledge of grandPA, a new support company focusing on MA Lighting consoles, sped through a short prep period at Lite Structures' facility in Wakefield to program the updated looks for the recent U.K. leg of Elton John's Red Piano tour. Two grandMA full-size consoles — one live and one for backup — joined the tour through the U.K. and Europe. The crew also used four MA NSPs, with the whole control system run on PRG's new fiber optic looms. Stick has used grandMA consoles for some years. On this tour they started with his show files from a one-off of his Las Vegas extravaganza, which was staged at London's O2 Arena.
This time, "we only had two days to put the show together, and refine and modify the existing show file along with creating new looks and cues," Routledge said. "This is when the pure speed of the grandMA really helped." Two consoles were networked together during the short rehearsal period. That let "Stick" modify and refine existing presets, leaving Routledge free to create and program the new effects that "Stick" wanted.
Gordon Torrington, PRG's control systems engineer, oversaw all the FOH elements of the tour, which visited Europe before returning to the U.K. All lighting equipment was supplied to the tour by PRG.
For more information, please visit www.actlighting.com and www.malighting.com .
Leave a Comment: