Crew-less TV Studios to Provide Video on Swedish Soccer Teams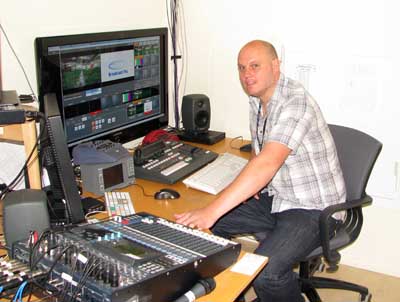 STOCKHOLM, Sweden — Onside TV Production, the production arm of the Allsvenskan Swedish Football League, is gearing up with Broadcast Pix Slate integrated production systems to produce daily HD news conferences for each of its 16 teams. The project includes the installation of small, unmanned HD studios in stadiums across the country that will be monitored and managed by a centralized control room. The remote studios will be installed throughout the current league season. When the project is complete later this fall, Onside TV Production will have a total of 17 Broadcast Pix Slate G 1000h integrated production systems in place, 16 in stadiums across the country and one in the main control room at Onside's offices in Stockholm. The entire project is expected to be fully operational in time for the 2010 season, which begins next spring.

The project is designed to increase news exposure of the league and its players and coaches by providing daily video footage from each club, which can be distributed to media outlets. However, maintaining production crews at each venue was cost prohibitive. According to Timo Tinderbeck, technical director for Onside TV Production, the main reason Broadcast Pix was selected was that its ability to be controlled over IP was a fundamental and unique part of the product's architecture.

"The integrated solution that Broadcast Pix offers with Slate was thoroughly tested for a year by Onside before embarking on this ambitious project. The ability to control 16 different studios from a single control room is critical, and the stability of the integrated IP capability convinced them that Slate was more than capable," said David Hughes, Broadcast Pix European Manager. "When you add to this the fact that the integrated IP technology allows first line support to be undertaken directly from the Broadcast Pix head office in Billerica using nothing more than Internet Explorer, you have a true 21st century technology solution for remote unmanned HD television production."

Each on-site studio will be equipped with two Sony BRC-Z700 HD robotic cameras, as well as LED lighting and audio, which can be controlled remotely through the Slate. Locally, someone will have to turn on the power, but the rest of the production will be handled by off-site staff. There will even be a reporter in Stockholm to field questions to team personnel.

"It's a really neat project," said Tinderbeck. "It's not cost effective to have our people everywhere. With Broadcast Pix, we can utilize inexpensive HD studios that don't require local crews."

Onside is also taking advantage of the Broadcast Pix built-in Inscriber CG and internal clip store for the operation, and is relying heavily on its multi-viewer to monitor the remote productions they are controlling. The single integrated view of all the local sources and Program and Preview output (and program audio) is returned to the control center over IP.

The press conferences will not be broadcast live, though Onside will be able to monitor them live over the Internet. Footage will be recorded on site with remote controlled Apple MacBook Pros equipped with Final Cut Pro. The recorded footage will be transferred via FTP to a Final Cut Pro edit station in the Stockholm control room for editing. Footage will also be tagged with metadata and then stored within Onside's content management system.
For more information, please visit www.broadcastpix.com.
Leave a Comment: