Daktronics, Screenworks Keep AC/DC Tour Visuals Rolling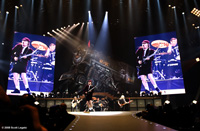 OSLO, Norway — To make sure its tour visuals wouldn't get derailed on the European leg of AC/DC's Black Ice tour, the band is continuing to use Daktronics' 70 square meter LED video display, comprised of modular PST-10 panels incorporated into the elaborate set by Screenworks, the tour's official video partner. The show opens with a locomotive appearing to crash through the LED display to the first chords of "Rock 'N' Roll Train." Moving along a synchronized track, the display divides in two as the locomotive steams through, forming a pair of smaller displays at opposite ends of the stage which then screen live video, colorful animations and crowd shots before coming back together at the end of the show.
Other set elements include cannons, a wrecking ball and a 60-foot-high inflatable doll for the song, "Whole Lotta Rosie."
"With the band's Black Ice album debuting at #1 in multiple countries throughout Europe, there's no question that AC/DC's European fan base has been anticipating their arrival," said Myron Linde, Daktronics mobile and modular sales manager. "It has been a pleasure working with Screenworks, a leading designer and provider of mobile and modular video systems, to help create a unique display system to add extra fuel to the European leg of one of the biggest tours in AC/DC's storied history."
The video display measures about 7.3 by 10.4 meters. The PST-10 panels use MAG-10 technology, a new indoor/outdoor display module with 3-in-1 black-stamped LEDs. That lets the panels keep a low profile on stage and then surge with imagery.
The display was a crowd-pleaser during the band's North American tour, with fans reacting audibly as the screen splits and the train comes through. The PST-10's ease of transport will also help the tour as it makes its run through Europe, Asia, and Australia later this year.
The European leg of the Black Ice Tour includes stops at major cities throughout Europe before concluding in Glasgow, Scotland in late June.
For more information, please visit www.screenworksnep.com and www.daktronics.com.
Leave a Comment: