DBN Lights Facade of Liverpool Landmark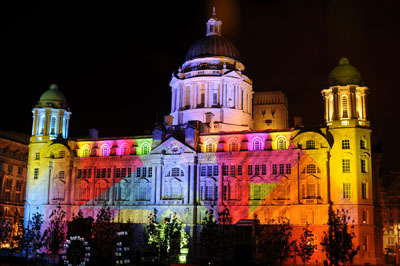 LIVERPOOL, U.K. —LD Stephen Page of DBN Lighting lit the 50-meter-tall façade of the riverfront Port of Liverpool building for LuminoCity, a 30-minute multimedia show that included video projections, pyrotechnics, live performance and sound. DBN also provided gear for the show, which was the culmination of Liverpool's 2009 Art On The Waterfront event produced by Walk The Plank for Liverpool City Council. Walk the Plank was also produced in conjunction with the Tate Liverpool art gallery and one of its exhibitions, Colour Chart.
Page used over 200 assorted LED fixtures — mostly Chroma-Q Colorblock mk2s, but also 16 i-Pix BB4s and five BB7s filling the larger long-throw sections, 16 SGM Palco 3s, 22 Clay Paky Alpha Spot HPEs, 10 Alpha Wash 575 THs and 8 Alpha Beam 300s for movement and texturing and 16 2.5K Studio Due CityColor fixtures for the basic overall wash.
Page's show included spectrum effects across the building and single-color washes and wipes synchronized with the video and soundtrack, which included interactive elements such as a paint-by-numbers schematic of the Port of Liverpool which had been filled in by visitors to the gallery.
Page recreated large-scale renderings of these on the building as one section in the show — which is where all the LEDs came in. The LEDs on the building were all rigged off cherry pickers by the DBN crew of six during an overnight stint one day before tech rehearsals, which took place two days before the show.
The show lighting was programmed and run live by Page using a Jands Vista T2 console. Sound was supplied by Audile, video by Pod Bluman Associates, pyrotechnics by Walk the Plank and flame effects by Black Powder Monkeys with custom content produced by Digital Insanity.
Prior to LuminoCity, DBN lit the transition event of the closing ceremony of Liverpool's European Capital of Culture year in 2008.
For more information, please visit www.dbn.co.uk.
Leave a Comment: