Demo Event at Royal Albert Hall Highlights Clay Paky Gear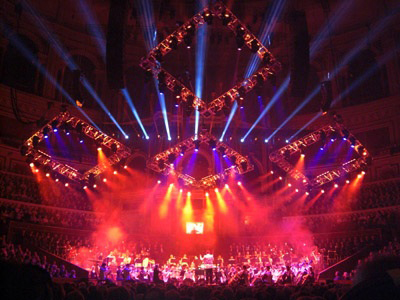 LONDON — A lighting demonstration performed by Durham Marenghi at the Royal Albert Hall put a sampling of Clay Paky gear to the test — Alpha Beam 1500s, Alpha Beam 300s and the long-throw Alpha Wash 1500 LT wash light. The presentation, before a group of LDs, directors of photography, rental managers, production managers, dealers and trade press, consisted of a live show and a technical demonstration. Durham Marenghi performed the live part on the rig he put together for Raymond Gubbay's bi-annual Classical Spectacular, pictured here, which pairs classical music and modern lighting.
Among the Clay Paky instruments, the Alpha Beam 1500 stood out with features that include a concentrated parallel beam, which extends its reach, a patent-pending focusing system and range of effects. The Alpha Beam 300, which has been deployed on tours for Tina Turner, AC/DC, Dancing on Ice, the Cure, High School Musical, Queen + Paul Rodgers and major national TV stations since its 2008 debut, was also featured, as was the Alpha Wash 1500 LT, a wash light designed for long-throw applications.
The three instruments were used together for the first time at the Classical Spectacular. "The Alpha Beam 1500s and 300s and Wash 1500 LTs on the rig gave extraordinary added value to a show which has a recognized dynamic lighting display for audiences throughout the world for years," Marenghi said. "These lights have high luminous efficiency and are ideal for the size of the stage and vastness of the arena auditoriums."
For more information, please visit www.claypaky.it.
Leave a Comment: