Depeche Mode's Universe Lit with i-Pix LEDs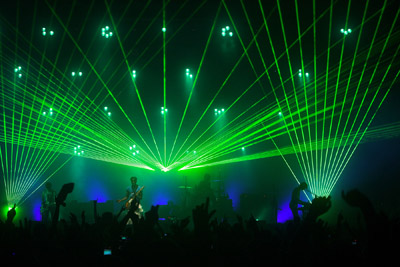 TORONTO — LD Paul Normandale specified i-Pix LED fixtures, including BB4 LED wash lights and the original i-Pix Satellite "brick" LED light-sources, for the Depeche Mode tour promoting their latest album, Sounds of the Universe. Normandale worked closely with the band's creative director Anton Corbijn on developing a clean look and feel for Corbijn's set and stage concept. The goal was a fluid sense of visual harmony running between lighting and video elements.
To keep the stage space looking clean and uncluttered, a substantial part of the lighting rig is concealed behind a MiTrix video wall at the back, including the 24 BB4s. These, together with 24 MAC 2K Wash moving lights, are mounted on custom-built frames, presenting a barrage of lights that can blast through the semi-transparent MiTrix screens.
Normandale noted that the "real power" of the BB4s is used in this context, adding that they are the "only" LEDs he's found that actually show and illuminate the audience in color, even when cutting through the bright MiTrix surface.
When Normandale and touring lighting director Graham Feast programmed the show, they did so in a way that allowed each individual BB4 pixel to be controlled and programmed as a separate lightsource, enabling them to create intricate chases and movements. Feast also credited the LEDs for their reliability.
The Satellites — 12 in total — are positioned around the risers illuminating each band member from close up. They were chosen for being small and discreet, and for their wide range of colors, including pastels.
Normandale is also using i-Pix BB4s on Coldplay's current world tour.
Blackburn-based rental company Lite Alternative is lighting equipment suppliers for the European legs of the Depeche Mode tour, with the U.S. legs being serviced by Upstaging.
For more information, please visit www.i-pix.uk.com.
Leave a Comment: