Dome Supplier Sets Up "Igloo" in Dubai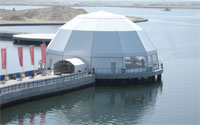 DUBAI, UAE — Igloos don't last long in a snowless desert, and the dome tent structure billed as "the first igloo in Dubai" won't last forever as well. But the first Gearhouse South Africa In2Structures MaxiDome temporary venue will be used for at least 15 months before it's disassembled — about 14 months and 30 days after a real igloo would turn into a useless puddle of slush. Unlike its frozen counterpart, the 26-meter-diameter Dubai Igloo has an apex height of 12 meters and a total load capacity of six metric tons, allowing for sub-hung lighting system truss. Each MaxiDome arch can accommodate a 1,500kg center point load, or a 2,500kg uniformly distributed load. A stage, variable seating or tables, etc. can also be installed as required.
Tom Meyer, InterContinental's area general manager, was already aware of the MaxiDome product. The structure fits neatly onto the footprint of a 30-meter-diameter "island" built into the creek beside the resort, and also InterContinental's schedule. In2Structures had the dome tent constructed, exported and completed on site within a six-week time frame.
The Igloo tent is covered with a combination of white and translucent skins, allowing guests to see the creek and marina. In2Structures supplied a team of five riggers from South Africa to build the Igloo. They worked alongside eight local crew members for 10 days, during which they also installed an entrance foyer and doors at the back of the venue, a new air conditioning system and a bamboo floor.
Because the island loading was restricted to 1.5 tons per square meter, a crane could not be used to erect the dome. Instead, the crew used a cherry picker with a 17 meter reach to lift the main arch into place, to which each of the remaining nine individual fingers were attached.
For more information, please visit www.gearhouse.co.za.
Leave a Comment: