Download Festival Updated with XL Video Web Simulcast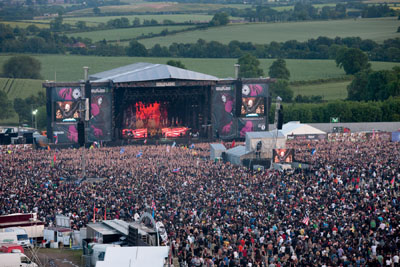 DERBY, U.K. — XL Video project manager Chris Saunders was working on his sixth Download Festival, an annual event staged at Donnington Park, and every year, it seems, the festival's video requirements expand. This year's brief called for 72 hours of live Internet streaming, pushing the video crew head count to 34. Along with the streaming content, XL Video handled a broadcast spec, HD camera system and screens package for Stage 1, an HD record for Live Nation TV and VH1, an MMS/SMS relay to screen for text messages and a standard definition camera/PPU package for Stage 2.
To support the live simulcast, XL's I-Mag camera relays from stage 1 flash encoded and sent footage via satellite to the data server feeding promoter Live Nation's Web site. The 72-hour live Webcast covered bands that had agreed to have their performances streamed for the wider enjoyment of fans around the world. Faith No More garnered the most Web viewers, with 23,000 tuning in.
The Stage 1 camera and PPU package was fully HD, with XL providing six LDK8000 cameras — two positioned at FOH, 2 in the pit on track-and-dolly, one hand-held onstage and a Jimmy Jib. Ruary MacPhie used a Green Valley Kayak HD switcher to cut the live mix.
The LED screens included two six-by-six-panel configurations of Lighthouse R7 high-resolution units on the left and right sides of the stage. The bottom row of panels (1 high by 6 wide) was operated as a separate screen surface, used just for MMS/SMS messaging. Text messaging has been a feature for some years at Download, with lots of input from the audience. Messages got texted to a central server, where they were mediated and then emailed out to one of XL Video's computers. From there, they were converted into the correct graphic formats and output to screen.
One of XL's Barco B10 mobile truck screens was positioned at the back of the FOH tower, to cover the viewing area at the back of Stage 1.
On Stage 2, also outdoor, the XL package consisted of three cameras — two in the pit with a hand-held cam onstage. There were two 5-by-4 configurations of Lighthouse R7 panels for the left and right screens, complete with a Green Valley Kayak mixer. Dan Ormerod directed the mix.
The XL team also undertook a full HD camera recording of the main stage commissioned by Mike Kaufman at Live Nation TV for subsequent broadcast by VH1. XL also supplied plasma screens used for relay throughout the artist areas and press center.
"This was a perfect example of how well it can work when the broadcast, screen and web elements are all brought together into a truly integrated package by an organizer with a clear overview," said XL's Saunders. "It was a pleasure to be back working with John Probyn and Hannah Farnham again," he added.
For more information, please visit www.xlvideo.tv.
Leave a Comment: