D.T.S. Names Lightfactor Distributor for U.K., Ireland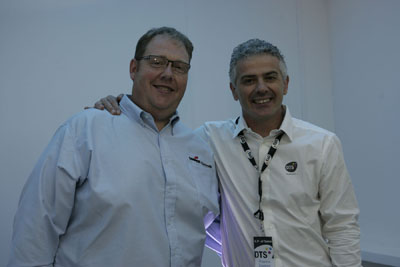 LONDON — D.T.S. named Lightfactor its exclusive U.K. and Irish distributor. Lightfactor's sales manager, Peter Coles, noted that Lightfactor will also be appointing a series of sub-distributors for selected D.T.S. product groups. Pictured here is Coles, left, with Franco Zaghini, DTS VP of sales. "We wanted to team up with a progressive thinking partner that could offer a full, innovative, high quality range of LED, moving light, theatrical range of luminaires and par cans for the entertainment and architectural sectors, and D.T.S. is the perfect choice," Coles said.
Coles added that one of the things that impressed Lightfactor about D.T.S. was that their production process is primarily based in-house, allowing for precise quality control standards. They also thought the product range was an ideal fit for Lightfactor's portfolio.
Based on the east coast of Italy near the commercial hub of Rimini, D.T.S. has launched several products throughout 2009.
The company's flagship products include the TITAN and FOS ranges of LED luminaires designed for indoor and outdoor permanent and mobile installations, and the comprehensive DELTA range of LED colour changing wash fixtures.
New at PLASA is XR2000 BEAM, the latest in DTS's XR range of moving lights – a compact moving head with extremely high light output, projecting a parallel and highly concentrated beam. Also just launched are the XR3000 SPOT CMY and the XR300 BEAM luminaires.
For more information, please visit www.lightfactor.co.uk.
Leave a Comment: