Elaine Paige Tours U.K. with Martin Gear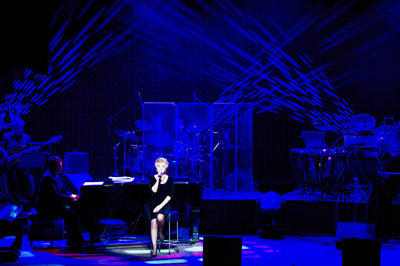 LONDON — Elaine Paige, known as the "First Lady of British Musical Theatre," took to the road for her recent U.K. tour marking 40 years since her stage debut. LD Martin Nicholas lit the tour using new Martin gear supplied by Amber Lites of Scotland. "I really like the 700 range and the MAC III as well," Nicholas said. "The gear worked really well with very little maintenance."
Nicholas positioned a single MAC III Profile in an upstage truss with the rest located at various positions on the floor doing architectural work on the walls and ceilings of the theatres and concert halls the tour visited.
"We didn't really have a set, so I projected a set," he said. "I took it out into the auditorium to dress the walls and ceiling, using lots of structural gobos as a scenic element." Nicholas used both stock MAC III gobos and custom gobo designs.
The MAC III's got a great zoom on it," Nicholas added, referring to the fixture's linked zoom and focus with an 11.5 to 55 degree true zoom range that zooms to full in a second. "I had as few lights as possible on the floor with as big a zoom as possible. I was doing it with five lights covering the complete auditorium walls and ceiling but probably could have used only three."
The single flown MAC III Profile was used for back keylight. "I used it really wide with a soft gobo breakup and then had a MAC 700 really tight in the center of it to highlight Elaine," Nicholas stated. "There was also a pianist stage right who she interacted with a lot, also in character. I 'goboed' him up quite a bit using a breakup, as well as the piano."
As far as the MAC III specifically, Nicholas had this to say, "It's a damn good light — it's bright and did what it was asked to do. I was pleased."
Amber Lites was the first rental company in the U.K. to invest in the Martin MAC III Profile and supplied six of those fixtures along with eight MAC 700 Washes and 10 MAC 700 Profiles.
"We aim to maintain a modern and comprehensive stock of lights, and as one of the most prominent and technologically advanced lights presently on the market, the MAC III Profile fits into that nicely," said Bill Adie of Amber Lites. Amber Lites' Will Potts and Bill Aide served as technicians.
"I would like to thank Martin Nicholas for having trust and faith in the MAC III, as this was the first time he had used this light," Aide said, also thanking Chris Hale and Dave Stewart of Martin UK "for their help and influence, and all at Martin for their input and general friendship."
Photo by Robert Hollingworth
For more information please visit www.martin.com.
Leave a Comment: