Elaine Paige Tours with Chroma-Q Color Web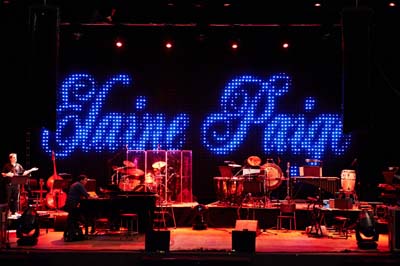 BRIGHTON, U.K. — Amber Lites (Scotland) Ltd is providing Chroma-Q Color Web 125 LED panels for scenic elements for the Elaine Paige 40th Anniversary UK tour. Paige, dubbed "the First Lady of British Musical Theatre," is marking 40 years since she made her West End debut and started on a career that has garnered eight gold albums. Amber Lites (Scotland) purchased 60 Color Web 125 LED panels to offer their clients a flexible LED stage backdrop suitable for different size tours and events.
"Originally, we looked at traditional LED display screens, but after seeing a demo of the Color Web at our premises we knew it was ideal for our clients' needs," said William Adie, a director of Amber Lites (Scotland).
"The product is very effective for providing both video and lighting effects across a large stage area. Also, it is an elegant solution for touring as it can be transported in small, flightcased sections. From our point of view it's a great investment and we expect a lot of interest."
LD Martin Nicholas had previously used the Color Web to provide visual effects for a weekend dance event, so when Amber Lites (Scotland) suggested using it for the Elaine Paige shows, he thought it would be a good opportunity to try it in a very different environment.
Chroma-Q distributor, A.C. Entertainment Technologies Ltd., supplied Amber Lites (Scotland) with an equipment package for the tour including the Color Web panels, a Green Hippo Hippo Critter portable media server and product training. Featuring 23 DMX universes, the Hippo Critter provided control of all video content running through the LED panels.
The Color Web system is designed and manufactured by Artistic Licence. For the Elaine Paige tour, Nicholas configured the Color Web as a 5-meter-by-12-meter stage backdrop. He designed and programmed the show lighting with assistant programmer & operator Bill Potts.
The Color Web provides atmospheric scenic elements for the show's varied musical numbers, including songs from Cats, Hair, Jesus Christ Superstar, Chess, Sunset Boulevard and Evita. Effects ranged from theatre signs and landmarks to abstract rolled-in waves and wispy clouds for the more jazzy numbers.
In addition, Nicholas used a 5m high image of Ms Paige's signature in white against a red background to mark the beginning, interlude and end of the show.
"I'm impressed by the Color Web," Nicholas said. "It's a good piece of kit and does exactly what it's supposed to do very well. It's given me some new ideas on how to exploit the potential for scrolling text across the product next time I use it, as well as how to provide great visuals to support the songs."
Photo by Robert Hollingsworth
For more information, please visit www.chroma-q.com.
Leave a Comment: