Element Labs Cobra LED Screen Turns Heads at City of Dreams in Macau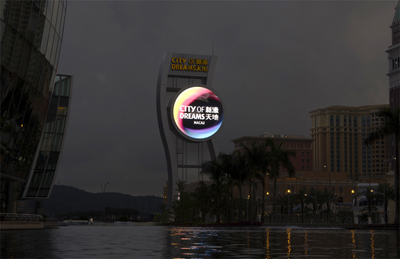 MACAU — A 45-meter-high, circular-shaped Element Labs Cobra 16 LED display turned heads during the opening event for the City of Dreams resort. It was used to display the opening show and activities, which were simulcast onto the 250-square-meter LED display. Some motorists passing by stopped to watch the display, drive-in movie style, and the sign may have helped the resort pull in an average 41,000 visitors per day during its opening weeks.
The project, on behalf of casino developer Melco Crown Entertainment, also included a smaller circular LED screen measuring 24 square meters in another part of the resort, according to Marc Van Eekeren, VP of worldwide sales for Element Labs.
"We worked together closely with the Melco team from the word 'go' and were involved in the entire tower design and construction effort," said Van Eekeren, who also noted that the thin, modular Cobra 16 product was still in development when discussions began.
For more information, please visit www.elementlabs.com.
Leave a Comment: