ETC Eos Debuts in Japan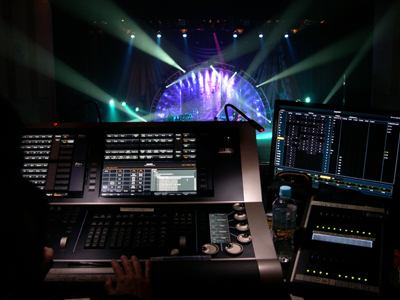 TOKYO — The first ETC Eos lighting control system to be sold in Japan just hit the road with singer-songwriter and pianist Angela Aki. It is the first time that an ETC console has been selected as the main console to control moving lights and LED fixtures in Japan. Where traditionally a tour package would include two boards — one for the conventionals and one for the moving lights — lighting designer Akio Watanabe specifically asked for Eos to take control of the whole rig.

Lighting director Akio Watanabe, who has 20 years of programming and operating experience with Vari-Lite Asia, said: "I chose Eos because the effects package has a lot in common with other boards that I'm familiar with. I am very glad that I chose Eos as the main console, and I am so confident with its performance that I will be using it for the Eikichi Yazawa show in the autumn, which has a much bigger rig than this show."
The rig for the Angela Aki tour, which was supplied by KM Station, includes some 50 moving lights, along with 100 conventional fixtures and 52 five-color LED units manufactured by KM Station in Japan.
Programmer Tetsuyuki Shigefuji said: "I was only able to get my hands on an Eos two weeks before programming started — and we only had a week to program the show. Ishikawa from Ken Production Services helped me get through this by monitoring my programming via the client software. He could tell me what I did wrong so I could correct it without interrupting precious rehearsal time. I enjoyed working with the Eos and I can't think of a better controller for the KM LED fixtures."

Ken Lammers, KPS managing director, said: "In Japan, ETC control desks have always had an image of being theatrical lighting desks and not moving-light consoles. It has been very hard convincing the market that ETC has changed, even with the Congo® control console that has been on the market here for three years. Now we are getting interest not only in Eos and Ion®, but also Congo, as moving-light consoles."

KM Station is a rental operator that provides equipment to many concert tours in Japan. The company originally purchased an Ion as a backup for the Eos for the Angela Aki tour, but because of interest from board operators, the Ion is now booked on a number of other shows and the company is already looking into purchasing more Eos and Ion consoles.
For more information, please visit www.etcconnect.com.
Leave a Comment: