Finnish Battle of the Choirs Lit with Clay Paky Gear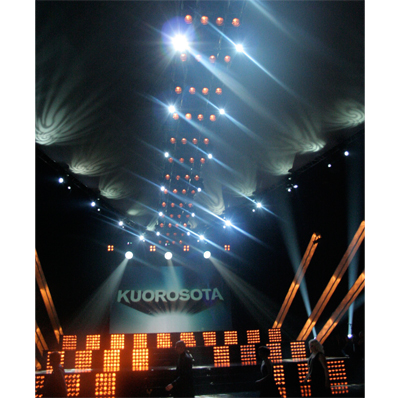 LAHTI, Finland — Called Kuorosota, or Battle of the Choirs, this Finnish singing contest is a choir-meets-Rock 'n' Roll showdown that forgoes the stoic formalities of a traditionally robed choir. As such, it warranted an elaborate staging and lighting setup that included Clay Paky's Alpha Beam 300. The format is similar to a singing contest, but with amateur choir participants selected by the top choral leaders in Finland. These choirs then compete with popular songs during a six-week live television broadcast.
TV viewers vote, and the list of contenders gets trimmed by one choir a week. The winning group gets to decide which hometown charity is most worthy of receiving the top prize, which is 40,000 Euros, or mort than $56,000. Some 500,000 viewers — about one-tenth the population of Finland — tunes in each week.
The live television broadcasts were held at Lahti Hall on TV channel Nelonen Finland, produced by Heidi Karsikko of Metronome Film & Television and directed by Niko Nykänen.
The stage, lighting, sound and rigging for the 2009 broadcasts were done by Mikki Kunttu Oy, who also served as production designer. The lighting rig included 24 Clay Paky Alpha Beam 300 fixtures, controlled by a grandMA Fullsize console and a grandMA NSP. The lighting operator was Pasi Saari.
"The Alpha Beams brought in a very important dimension to the lighting. They added a lot of needed depth into the backgrounds in a lot of camera shots. I really like the simplicity of the fixture and the punch it delivers," said Kunttu.
The final votes put Timo Kotipelto and his choir on top, making them the 2009 Kuorosota Champs. Timo decided the charity money should go for music education and band rehearsal spaces in Lappajärvi.
For more information, please visit www.claypaky.it.
Leave a Comment: