First Night Riders Get Ready to Roll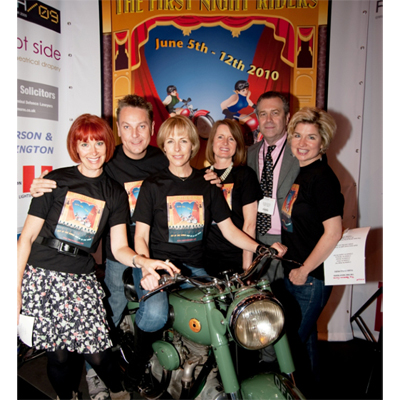 LONDON — Inspired by the Long Reach Long Riders, a group of theatrically-inclined bikers has formed in the U.K. to raise money for The Theatrical Guild, which offers support to those working backstage and in front of house.
The event, set for June 5-12, 2010, is being organized by David and Brenda Edelstein of Triple E Ltd., which makes theatrical track systems. David has taken part in four of the six Long Reach Long Riders events. The ride will tour the U.K., visiting theatrical venues of interest along the way.
The group's launch at PLASA09 was supported by Brian Conley and Liz Robertson (both currently starring in Hairspray), Issy van Randwyck of Fascinating Aida and actress Fiona Mollison.
Although the exact route and list of riders is subject to change, John Barnes, Richard Bullimore, Steve Colley, Neil Collins, David Edelstein, George Ellerington, Ric Green, Darrell Hewitt, Simon Le Bon, Simon Nichols, Michael Powell and Bill Sapsis from the U.S. have all expressed interest in taking part. Stephen Pennington, Brenda Edelstein, Robert Hamilton and Scott Miller from Canada have offered chase car support.
The ride will finish on Saturday June 12, in time for the 2010 Theatre Engineering and Architecture Conference, which opens the following day.
Among the associations and companies that have already pledged sponsorship are ABTT, Blitz Sound, Cameron Mackintosh, ETC, Hall Stage, Harmer PR, Howard Eaton, J&C Joel, PLASA, Prompt Side and Triple E Ltd.
For more information, please visit www.firstnightride.com.
Leave a Comment: