G-LEC Used for Interactive Railway Museum Art Exhibition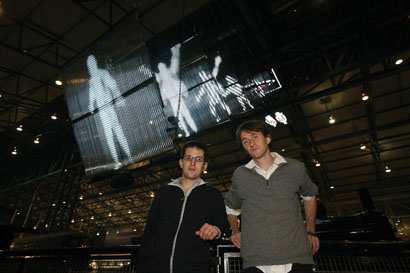 YORK, U.K. – G-LEC Phantom30 frames have been used for an interactive art exhibition at the National Railway Museum. For the installation, media artists KMA formed a bridge-like structure across the roof of the exhibition space using 13 screens measuring 2 meters by 2 meters, each of which included four G-LEC Phantom30 frames. "It was the railways which first created the need for standardized time across the country, so we came up the idea of an exhibition based on time, place and distance," said artist Tom Wexler. "We placed the 13 screens across the curved roof of the hall, with a thermal imaging camera at each end. The cameras captured people's movement and a few seconds of each person was looped. This was then shown on each screen in turn until the two people's images met in the middle.
"We specified the G-LEC transparent frames because we didn't want the screens to be too 'heavy' or dominant – some were only a very short distance from people's heads, and we didn't want a solid structure. That way you could see through the screens for a different perspective. With large areas of black, we wanted it to be neat and tidy, with the structure as elegant as the content."
Installed by rental company EML of Belgium, the 52 Phantom30 frames were connected to a G-LEC S-Drive media server. EML Productions developed a special hanging system to prevent the frames bending too much when they were hung at an angle. You can see video from the exhibition, called Brief Encounters – a reference to the 1945 film set at a railway station café – at www.g-lec.com .
"EML had used G-LEC before," continues Wexler, "and so were in a position to recommend them to us. We evaluated at a couple of other screens, but G-LEC Phantom30 had all the properties we wanted. I was really pleased with the results, and I know the museum was as well, so would definitely use it again."
For more information, please visit www.g-lec.com.
Photos by NRM
Leave a Comment: