GDS LiteWare Makes U.K. TV Debut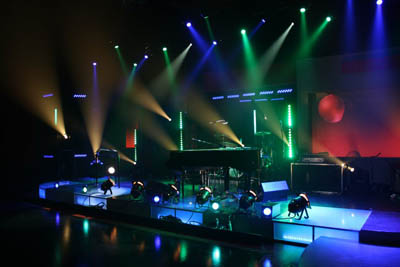 LONDON — Global Design Solutions' LiteWare product line made its TV debut on the BBC's Friday Night with Jonathan Ross. LiteWare gear, controlled wirelessly via DMX, lit the underside of the piano and the front of the stage before the lighting crew removed the fittings and deployed them at the front of the performance stage for another performance. The first performance featured Lionel Richie and Jonathan Ross in an impromptu duet. The second performance featured the U.S. rock 'n' roll band, Sparks.
Richard Martin Lighting, which rented the LiteWare gear for the show, took a screen test on the LED uplighter. They gave a number of fittings to Chris Kempton, LD for the program, to test the performance of the unit on camera and to see how easy the fittings were to deploy.
"The LiteWare UL proved a very useful tool," Kempton said. The units, he added, "were quick to set up and the ability to position them anywhere, and re position at short notice, with no cables to worry about proved extremely beneficial. Certainly on location they would be an excellent fixture with their very short set up time. They seemed to be well made and the charging setup well-thought-through. I will certainly be using them again."
LiteWare UL is a battery powered RGB uplighter with wireless DMX control. LiteWare is a stand-alone controllable light source with 24 hours battery life. The cableless fitting allows easy installation and setup, reducing man hours and cost for the user or installer. The fitting is charged either by placing it in its custom flightcase with charging distribution built-in or with a stand-alone power-supply. A floor-bracket, which allows the fitting to be mounted at an angle, is also available.
For more information please visit www.gds.uk.com.
Leave a Comment: