GHSA Lights Godskitchen's Boom Box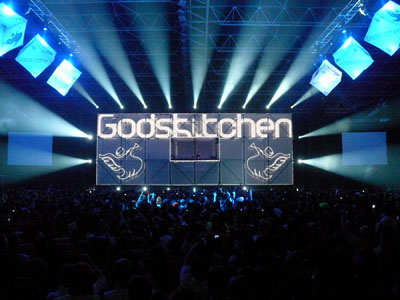 CAPE TOWN — Godskitchen's 2009 world tour included a stop in Cape Town, South Africa, headlined by DJ Armin van Buuren and supported by Gearhouse South Africa. GHSA supplied full technical production for the Cape Town event for their client, Kilowatt AV, headed by Dillon Jearey. Jearey worked closely with the event's production manager and lighting designer, U.K.-based Simon Barrington of Production Eye, and also with project manager Andrea Frey from Angel Music.
Kilowatt has worked on previous Godskitchen events, but this is the first time they have involved Gearhouse, whose Cape Town branch supplied staging and structure, lighting, audio and AV for the event at Bellville Velodrome, which drew some 4,000 dance enthusiasts. Gearhouse also provided a 15-member crew, led by Theo van As.
A key visual element was the Boom Box, built with a latticed framework of Layher scaffolding, which was then clad in white material for projected visuals. All the DJ action took place in a window cut into the center of the Boom Box, flanked by two dance podiums.
Kilowatt and Gearhouse received drawings in advance from Barrington, and it was particularly crucial that the diagonal struts were precisely matched to line up with the projected visuals. Gearhouse also built two VIP platforms in the Velodrome, one measuring 24 meters by 16 meters and the other 22 meters by 14 meters.
The majority of the lights, including 22 MAC 2000 Profiles, were rigged on and in the Boom Box, with two additional trusses flown over the two VIP decks and another two over the dance floor.
The original spec called for MAC 700s, but Barrington and his team were more than happy with the brighter alternatives. Other lighting in the Boom Box included 16 Atomic strobes and 16 linear 4-lite Moles. Six i-Pix Satellite LED bricks were used to illuminate the DJ and dancer positions.
Another 12 MAC 2000 Profiles and 12 MAC 2000 Wash fixtures were spread out across the audience truss, with eight MAC 250s positioned along the VIP trusses.
An Avolites Pearl 2008, supplied by Gearhouse and operated by Willy Bothma, controlled lighting for the VIP areas. All the fixtures on the Boom Box and audience trusses were hooked into Simon Barrington's Chamsys console, which he operated for the show.
For the Boom Box projections, Gearhouse supplied four Christie 16K Roadster projectors. The projectors were double-stacked and mounted on a dedicated 5-meter-high scaffolding platform. Ed Shaw of Ne1co ran the show visuals using customized Mac-based software from Exyzt.
Five Sony PD170 cameras were in predetermined locked-off positions on the boom box, three focused on the DJ and the other two on the dancers. Their feeds routed back to the computer running all the Godskitchen visuals.
Barrington output these to two Christie LX650 projectors, which beamed the images onto two 12-foot-by-9-foot side screens left and right of the Boom Box. Roland Sweet from Little Big Productions created the I-Mag camera mix.
For more information, please visit www.gearhouse.co.za.
Leave a Comment: