HSL Supplies Robe Robins, Other Gear for Stereophonics Show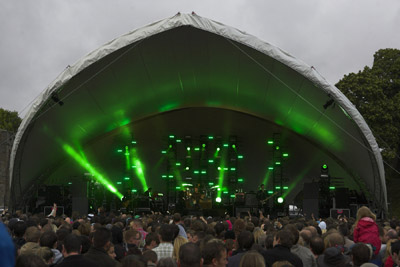 CARDIFF, U.K. — HSL supplied all lighting for the Stereophonics' homecoming show at Cardiff Castle, including eight of the new Robe Robin 300E Beam moving lights, specified by LD Tim Routledge. It was the first time the band had played at the venue since 1998, and the U.K. debut for the Robe Robin fixtures.
The gig promoted the band's album, Keep Calm & Carry On, and Routledge was asked to light this and a warm-up gig at the Electric Ballroom in London following a TV special he designed for them last year at Cardiff's Millennium Stadium, for which he won a Welsh BAFTA Award.
HSL has supplied a number of Routledge's recent projects, and Routledge was eager for them to also do this one. "The variety of kit that HSL has available is really impressive, as is their attention to detail and willingness to customize gear and accommodate non-standard requirements," he said.
It was a daylight show, with the band onstage at 4.30 p.m., so Routledge's design was based on bright, high-impact lightsources that would register enough to make it look and feel like an evening show.
Routledge also needed to bring the energy from the band into the audience. The other major technical challenge was that the saddlespan stage was tight on space and limited in weight loading capacities, so it had to be a floor-based rig.
Upstage right at the back was a row of six A&O Falcon Beam 3K searchlights, which produced powerful beamwork.
The Robe Robin 300 Beams were rigged on seven vertical trussing towers positioned around the stage. "Their beams are incredibly well defined and bright, and they had no problem being visible in daylight," Routledge said.
The vertical trussing towers were interconnected with 48 horizontal scaffolding bars, with 250 ChromaQ ColorBlock LED units attached, mostly configured as 4-call color-changing blinders, all pixel mapped through the grandMA console. At certain points in the ColorBlock matrix, fixtures were removed to make a diamond shape that was infilled with Atomic strobes and 2-lite blinders.
Routledge's Cardiff rig also featured 14 Robe ColorWash 700E ATs, two of which were attached to each of the seven towers and used for back and general lighting. The only luminaires attached to the roof structure were two ETC Source Fours for keylighting lead singer Kelly Jones.
A major architectural feature of the show was a large matrix of 250 LED fixtures. This, all the moving lights plus strobes, 2-lite blinders and profiles were all controlled via a grandMA2 lighting console.Routledge programmed and operated the show from his programming house — grandPA, run also for the first time on a live show.
By the time all the lights and structural elements had been squeezed onto the stage, there was very little space left. "It was a question of being as resourceful as possible with the space and in daylight," said Routledge, adding that the ColorBlocks were "blindingly" bright and highly effective as were all the other fixtures that combined to achieve his creative objectives.
HSL's four crew, along with 4 students from the Royal Welsh College of Music & Drama, worked with Routledge's gaffer Mark Mitchell. They got in on the Friday before the Saturday show and worked quickly and efficiently to get everything ready in time for programming overnight.
"It was great to work with Tim on another high profile event following a new Welsh TV series and a large show at the O2 the other week," said Mike Oates, who managed the project for HSL. "It was high pressure and we all collaborated closely and imaginatively to ensure he had everything needed for a very memorable show."
The 10,000 tickets went on sale pegged at the same prices as 11 years ago, selling out in 40 minutes.
For more information, please visit www.hslgroup.com.
Leave a Comment: