Ibiza's Eden Nightclub Gets New Gear, Console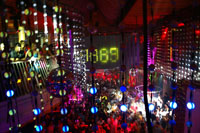 IBIZA, Spain — On the recommendation of U.K.-based LD Alan King, who was brought in by Microchunk to add new gear for Pete Tong and Groove Armada's "Wonderland," Ibiza's Eden nightclub upgraded to an Avolites Diamond 4 console before the busy summer season.
"The D4 is great for running multiple club nights," King said. "There are 98 instant access buttons that can be filled with cue lists. For an application like Eden, which operates seven nights a week for the 10 week season, each session can be run off the same front surface page, flipping to the playback pages to access different set ups, looks, scenes, chases, pre-set tempos, etc. as you wish."
The D4's MIDI capabilities, which let Tong trigger lighting and video cues via his Ableton software, were another consideration. So was the club's need to "future-proof" its control system for projected expansion over the next five summers. There are now 12 universes of DMX, and only three of them were used in 2008, so there's ample "headroom" for growth.
Visitors for 2008 saw the addition 2,800 strings of 16 Barco MiSpheres, which were hung as a video curtain all around the central balcony of the main room. They were fed with content stored and programmed in a Pixel Addict media server, triggered by the D4 on most nights.
The 2008 rig also included 42 Sidious 250W and 575W Spot moving heads, 16 iSolution 575 Spots, 20 LED PARs and four Tritan 575 Viva Scans, all run from the D4. Analog strobes, meanwhile, were slaved through the D4, as were the two Pangolin lasers.
The 250W Spots circle the dance floor from the lower level while the four 575s project from the ceiling level onto the balcony floor. The smaller heads effectively act as short throw fill for the larger fixtures in the roof. The 575 Scans are on the lower floor around the DJ booth, used for bright and vibrant head-height crowd scanning. The 12 LED PARs get used to spot all the dance podiums and the DJ booth, effectively freeing up the moving heads for "effects duty" during performances.
King spent three weeks installing the video curtain and the new lighting rig and programming the D4 at the start of the season. Chris Goodwill, a sound engineer, was able to take the reins after just a five-day crash course, with plenty of opportunity to delve into its complexities and depth over the course of the summer.
For more information, please visit www.avolites.com.
Leave a Comment: