Jesse Clegg Shows Lit by Robe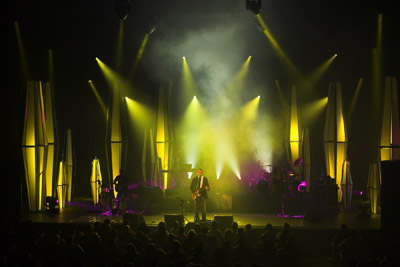 JOHANNESBURG — LD Tim Dunn used 30 Robe ColorSpot and Wash 700E AT moving lights to light a three-night series of performances by Jesse Clegg at the Johannesburg Civic Theatre. Dunn used the 18 Robe ColorWash 700E ATs in the 1200 capacity theatre's house rig, adding another 12 ColorSpot 700E ATs of his own supplied by Gearhouse South Africa.
The only other fixtures he used were Source Fours, for keylighting Clegg and his four-piece band. "I knew that 30 Robe 700s would give me more than enough options to cover Jesse and his band," said Dunn, who also brought in his own grandMA full size console to run the lights for the shows.
Dunn also lit the set's design features, including a series of slim diagonally-shaped columns of different heights, which were placed around the wings and rear of the stage, which also had a white Marley floor. "It was important to define the space, introduce depth and have some interesting scenic elements to light around the band," he said.
Twenty-two of the Robes were positioned on the house bars above the stage, with the remaining eight ColorSpot 700E ATs forming a semicircle in between the columns on the floor.
As the show started, the front tabs opened to a high-impact white chase with the fixtures shooting through the band and into the audience. The visual energy and drama complemented the performance, which ranged from simple and theatrical to all out rock 'n' roll.
Dunn used the Robes for color-washing, for moody back lighting, and for movement and texturing effects on the band, set and stage.
With no rehearsals and only one night of programming, Dunn had to think on his feet, particularly on the first night. But he said he enjoyed that challenge. "You absolutely have to be right in tune with the music and on top of what you can produce on the fly for a show like this, as well as making it relevant. It was a real pleasure to be asked to do it, and to work with Jesse, who has a huge future," said Dunn, who has worked with Clegg's manager, Roddy Quinn, on previous projects.
Dunn, who is also a director of Gearhouse South Africa, uses Robe on most of his shows, including Miss World 2008 (where he used DigitalSpot 7000 DTs and REDWash 3-192s), Africa Day 2009 and the closing ceremony of the Indian Premier League cricket series in Johannesburg.
Jesse Clegg is the son of Johnny Clegg, a well-known South African artist. He has a hit first single, "Today." His first album, When I Wake Up, was released last year.
For more information, please visit www.robe.cz.
Leave a Comment: