LED Screens Used for IMAG, Graphics at Autosports 09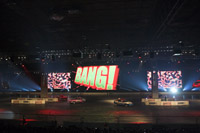 BIRMINGHAM, U.K. — XL Events supplied five large LED screens, cameras, PPU, a Catalyst digital media server and crew for the Live Action Arena at the 2009 Autosports exhibition, staged at the National Exhibition Centre. The center screen was made from 75 square meters of Lighthouse R16 LED panels and was flanked by two 30 square meter Lighthouse R7 screens. XL Events also supplied two Martin LC2140 medium resolution LED screens, one at each end of the arena, to add depth and movement to the space. These were designed primarily to show graphics, while the three central screens received a mix of camera IMAG, graphics, assorted playback footage and VT.
The five LED screens appeared along the length of the 136 meter-wide arena, helping the audience of 4,700 get a closer look at the action unfolding for each of the shows. These were kept to 45 minutes in length, allowing for up to six shows a day.
Each of the 45-minute shows featured 15 different genres of turbo-charged cars competing in short races. The racing action was interspersed with VT inserts, live-to-camera presentations in the arena and a performance by stunt driver Terry Grant. Roger Burlinson directed the shows.
XL Events used a Catalyst digital media server to feed all the screens with the various playback material and a camera feed from the PPU. Burlinson supplied all the show content, and Ian Galloway programmed it and ran the Catalyst.
The screens showed images gathered by four operated Sony D50 cameras, two positioned at the entrance end of the arena, one at the opposite end, and the fourth in the middle of the seating grandstand.
Three RoboCams were also located beside the barriers around the arena, giving the audience a dangerously-close view of the cars and drivers as they sped around the track, without putting any live camera operators in harm's way. Tim Riley operated the RoboCams from a safe distance.
IMAG director Jerry Rosenfield used one of XL's GV Kayak mixer/switchers. Matt Doughty was the chief camera and LED tech.
"It was a great show to work on," Riley said. "A major challenge was always being flexible and ready to improvize if something unexpected happened in the arena — always a possibility in such a fast moving, totally live environment like this."
Network Productions supplied lighting and sound equipment.
For more information, please visit www.xlvideo.com.
Leave a Comment: