LEDs Help Jackson Browne Tour Go Green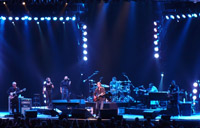 OSAKA, Japan — Jackson Browne was "pivotal" in the decision to use an LED-dominated lighting rig for the first time on the world tour supporting the 2008 album, Time the Conqueror, according to Dave Davidian, lighting and production designer. "He's a very green-oriented person," said Davidian, who has worked with Browne since 1990. "I was curious about LEDs too." The rig supplied by Bandit Lites includes 180 American DJ 64B LED Pro PAR cans, 20 Elation Impression LED moving heads, 26 ETC Source Fours, 21 Martin MAC 500s, 18 6-lamp bar LEDs and six 4-lamp bar LEDs from American DJ, four Pulsar Chromabanks, 24 Super Trouper gel frames and six 4-Lite inline Moles. Davidian used two High End Systems Wholehog 2s and an Avolites 72 Way 2.4K digital dimmer (FD20) for control.
The American DJ 64B LED Pro PAR can, also featuring RGB color mixing, is powered by 181 10mm red, green and blue LEDs. Its output is comparable to a PAR 64 halogen lamp even though it draws only 30-watts of power. Both the Impression and 64B LED Pro also have LED lamps that last for 100,000 hours under normal operating conditions.
A key goal for Davidian was to light Browne from as many different angles and levels of lighting as possible. To do this, Davidian constructed a rig with two upside down "U" truss configurations, one on each the left and right rear of the stage, with a straight bar of truss in the center between them.
The sheer number of ADJ 64B LED Pro PAR cans provides "strength in numbers," Davidian said, without scorching the performers on stage. The 20 Impression moving heads, meanwhile, serve as backlights and sidelights.
"The brightness of the Impression is fantastic," Davidian said. "The colors are stunningly beautiful — better than dichroic — and they do some great color dissolves." Additionally, the movement of the Impressions helps achieve his goal of having "as much flexibility with angles and light source points as possible."
Along with eye appeal on stage, another key goal was to preserve the beauty in the natural world. "It was important to [Browne] to use less energy and to leave a smaller carbon footprint as he comes and goes in each town," Davidian said.
"This is my first venture into LED fixtures," he added. "It's certainly new territory for me. It is both interesting and challenging for me to break in new technology, especially because it mixes colors differently than we're used to."
Limited in both size and weight, the Impressions also serve to make life easier on the tour, which has moved on from its U.S. stops to venues in Asia, and will then proceed to Australia and Europe before it ends in May 2009.
For more information, please visit www.banditlites.com and www.americandj.com.
Leave a Comment: