LEDVision Supports A1 Grand Prix in South Africa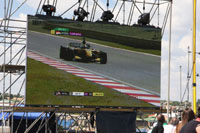 MIDRAND, South Africa — LEDVision, a Gearhouse South Africa company, supplied 200 square meters of LED screen, microwave links and control for the fifth round of the 2009 A1 Grand Prix World Cup. This was staged in South Africa for the first time at the Kyalami Grand Prix Circuit. The seven screens included three mobile truck screens — one 40 square-meter Chromatek 20 mm and two Barco B10s, each measuring 10 square meters. There were also 4 modular screens — one at 40 square meters and three at 30 square meters — all made from Lighthouse R16 panels.
The LED displays were placed strategically around the track to offer optimum viewing for a close to 90,000 spectators.
The first of the 30-square-meter Lighthouse screens was installed on top of the pit roof by the start/finish line. Another appeared by the track's first turn, in view of the opposing grandstand. Another 30-square-meter Lighthouse screen was positioned further up at the second turn for those seated in the Gold grandstand.
Those in the Gold grandstand could also watch the action on one of the Barco B10s and the Chromatek. The second Barco B10 was located at Turn 5. Another 30-square-meter Lighthouse unit was at turn eight, and at turn 10, the crew set up the 40-square-meter Lighthouse.
The crew from LEDVision included 32 for the build up and 16 for the practice day and two race days. These were all directed by Richard Baker and crew-chiefed by Allen Evans (JHB) and Mike Tempest from Gearhouse's Durban office. They were working directly for Gauteng Motorsport, producers of the South African leg of the event.
Broadcasters Alfacam supplied a video feed, which was linked via microwave their compound to the LEDVision control point behind the pit roof screen, and these images were then relayed to the six other screens around the track.
The control setup included an ad scheduler, a Sony AnyCast switching station and a series of AV Stumpfl media servers. The ad stings were coordinated via a Medialon control platform supplied by LEDVision's sister company, System Solutions.
Along with IMAG of the race action, the screens also relayed live updated race statistics, local advertisements and a variety of public announcement information.
Power for three of the Lighthouse screens came from generators supplied by Gearhouse Power, with the fourth running off hard power, and the three truck screens were run from their onboard generators.
The biggest challenge for the LEDVision team was the geographical scale of the event and the distances between the areas needing coverage. "Winning this contract was great for the company," said Baker. "It took some meticulous pre-planning and great teamwork on site to produce stunning results."
For more information, please visit www.gearhouse.co.za.
Leave a Comment: