Live Technic Named Robe Distributor in Norway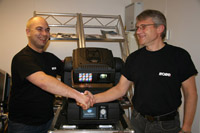 KRISTIANSAND, Norway — Robe has named Live Technic as distributor for its products in Norway. Thor-Andre Sæther, left, and Finn Nilsen, right, formed Live Technic in 2006. Sæther became familiar with Robe products as an LD and programmer, and felt it was the right brand for Live Technic to distribute. "I've worked with moving lights from all the major manufacturers worldwide, and none of them can deliver the quality and reliability that I have experienced with Robe," Sæther said. He added that the people at Robe are always pushing technical boundaries.
"Robe's reputation for solid build quality is renowned and they have a broad and dynamic range of products, so whatever the size of the venue, project or budget, there is always a Robe product to suit the job reliably and effectively," Sæther said, and spoke favorably of the Robe service and support team as well.
Along with Robe's current DT and RED product lines and their plans to expand with the future Plasma range, Sæther sees Anolis as a bonus because it could open doors to the architectural, commercial and industrial markets.
"We look forward to a long and hugely successful working relationship with Robe alongside all our other suppliers," Sæther said.
"We searched for some time for the very best partner in Norway, and came up with one choice, Live Technic," said Ingo Dombrowski, Robe Lighting's business development manager. "Thor-Andre and Finn are well known and respected in the Norwegian market, they have excellent connections and a proven track record in our industry. We are looking forward to a proactive, high level collaboration on all fronts."
For more information, please visit www.robe.cz.
Leave a Comment: