LSC Clarity Used for College Oktoberfest Celebration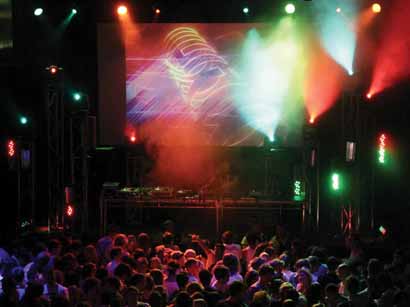 SYDNEY – LSC's Clarity lighting control software and VX20 wing were used for the main stage, called The Musik Haus, at Oktoberfest 2009, a five-stage event put on by ARC, organizers of student events at the University of New South Wales, which was attended by close to 8,000 students.
The Musik Haus stage presented a combination of live music and DJs, some with live enhancements like trumpets or drums. The lighting rig included 8 Martin MAC 600s, four MAC 500s, eight Technobeams, eight MAC 250 Entours and eight HoneyComb LED 72s.
Zac Shenker, the lighting programmer and operator at the Musik Haus, credited the LSC Clarity and VX20 wing for helping manage the recording of cues and effects, calling the Freesets function in Clarity a time-saver.
Shenker used the software, installed on a laptop, for a total of six hours of live shows. The software did not require special configuration, and it was also supported by an external monitor that displayed the dockable video windows.
Shenker, a student studying computer science and digital media student, is one of the two regular lighting technicians for ARC. Working with a crew of eight, Shenker helped light, rig and program the lighting and audio systems used for the five-stage event. Chameleon supplied additional equipment for the temporary stages.
For more information, please visit www.lsclighting.com.au.
Leave a Comment: