LumenRadio Business Plan Wins Swedish Competition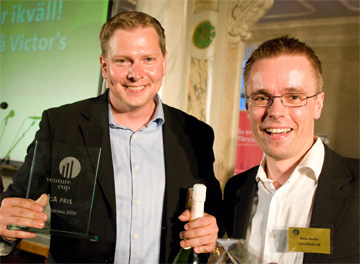 MALMO, Sweden — LumenRadio won first prize in Sweden's Venture Cup Business Plan Competition for CRMX, the company's first product line for wireless control of architectural and entertainment lighting. "CRMX wireless devices scan all nearby wireless traffic and automatically adapt to never disturb or be disturbed by other wireless devices," noted CTO Niclas Norlén, a feature the company dubs "cognitive coexistence."
Per Hulthén, CEO, and his colleagues received a check 200,000 SEK — more than $25,000 — and a standing ovation in Malmö Town Hall in early June. Close to a thousand other competitors had been vying for the top spot.
"This technology will replace and eliminate all previous solutions," the jury concluded, before in awarding the company the prize.
First appearing at Prolight+Sound in April, CRMX has garnered interest "above our wildest expectations," Hulthén said. "With our release of wireless RDM in September we expect customer interest to skyrocket," he added.
"CRMX utilizes advanced real-time error correction algorithms to repair data packets destroyed in the radio transmission providing 100 percent frame integrity even under the most difficult conditions," Norlén said. "CRMX always works, it never interferes with other wireless traffic, and it sets itself up automatically," he added.
"CRMX offers the same robustness as cables, but with the convenience, flexibility and low installation costs of wireless," said Eddie Smith, who is heading up LumenRadio's architectural efforts.
For more information, please go to www.lumenradio.com.
Leave a Comment: