Martin MACs, LED Panels Gives Flashy Looks to Cozy Club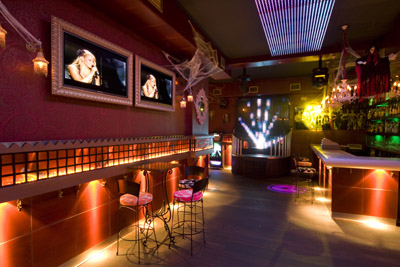 BURGOS, Spain — With little more than 2,000 square feet in floorspace, dmode Club is "cozy" compared to bigger clubs like the almost 70,000-square-foot Privelege in Ibiza. But if dmode not likely to become a magnet for up to 10,000 international revelers in a single night, it offers patrons a smaller dose of visual flash with a new lighting system featuring Martin gear.
"The main requirements of the lighting for the space were innovation and design," said Seltron Sonido Profesional S.L.'s Luis Enrique Heras, who was responsible for lighting design and project management.
He chose a combination of Martin MAC 250 Krypton moving heads and Martin LC Series LED panels, updating the look of the modestly sized interior and demonstrating that the panels can be used for architectural interest, not just for touring applications.
"The club wanted a customized lighting solution and the spectacular lighting equipment and video panels were designed to achieve comprehensive and dynamic lighting throughout the entire area," said Luis. "The main features we've found with the Martin fixtures are vanguardism and reliability."
The club's new lighting system is controlled via a PC-based Martin LightJockey with LED graphics relayed from a Martin Maxedia PRO™ media server.
Maxedia, which includes a large library of media clips, still images and animations, allows for simple media composing and playback without the need for a lighting controller.

Martin's Spanish distributor, Ecler, helped Seltron supply the gear for dmode.
"The Martin equipment has provided a highly sophisticated, reliable and innovative solution," Luis said — "one that could exist in any of the best clubs in the world."
For more information please visit www.martin.com.
Leave a Comment: