Martin Names Hoehn SVP – Business Development & Marketing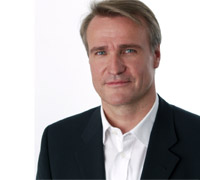 AARHUS, Denmark — Martin Professional A/S named Frank Hoehn as senior vice president – business development & marketing. Hoehn had previously held the position of senior vice president – architectural. "Following years of building and establishing the Martin brand in the entertainment industry, Martin has now arrived at the next stage," said Christian Engsted, CEO of Martin Professional A/S. "In the coming years, we will see a stronger focus on leveraging the Martin brand through developing new business within the entertainment industry as well as in the architectural/commercial lighting world. Frank is an internationally seasoned and strong manager who understands how to create value for our customers."

In addition to his business development responsibility, Hoehn will take on the overall responsibility for Martin's marketing department, which includes corporate communication and general marketing initiatives. He also holds the responsibility for Martin's after-sales service department, including spare parts sales, service contracts and installation and commissioning.
Reporting to Hoehn is marketing manager Anne Mette Solvang and service manager Henrik Dyre Petersen. Martin's design and application department, headed by Jesper Lauridsen, will also continue to report to Hoehn.
Hoehn, who joined Martin Professional A/S in September 2008, has a background in project and concept sales within the lighting industry. Prior to joining Martin Professional, he held international management positions in Australia, Denmark, Germany and Switzerland.

Commenting on the new position, Hoehn said, "Martin Professional has always been a leader in the entertainment lighting market and will continue to do so. The task is to strengthen that position while expanding the existing sales structure in the area of large projects, an important area of focus for us going forward."
For more information, please visit www.martin.com.
Leave a Comment: