Medialon Controls The Illuminations at Tivoli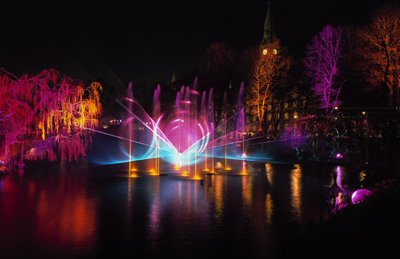 COPENHAGEN — Created in the mid-19th century, Tivoli is one of the world's oldest amusement parks and Denmark's most popular tourist attraction. Visitors come for the rides, concerts, parades, gardens, and, since 2002, the "Tivoli Illuminations," a half-hour light show at the end of each day in summer. This season, Informationsteknik upgraded the light show, using a Medialon system for control. One Medialon Manager Lite license controls the 17 water fountains, a large, full-color laser machine, music and 16 smoke machines placed with moving lights that create "cones" which change in color while moving up and down.
"We selected Medialon because we could check the network system over Internet from everywhere and help our client in case of problem" said Peter Colméus, Informationsteknik technical project manager.
Tivoli personnel can start the show automatically at a click of a button and use a panel to check the status of the equipment dedicated to the show, which runs every evening from April to September and in December during the holiday season.
For more information, please visit www.informationsteknik.se and
www.medialon.com.
Leave a Comment: