Medialon Used for 4D Cinema at DKM Forum in Norway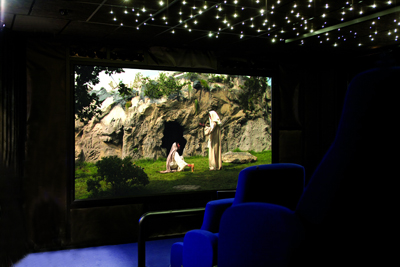 STOKKE, Norway — DKM Forum, a Norwegian exhibition and marketing center for the Brunstad Christian Church, is using Medialon to control its 4D cinema, which combines 3D Films with effects such as moving seats, air movement and water effects. The 3D film and effects are synchronized by a Medialon Manager Pro license. "We have made the 4D seats ourselves, with servomotors (each seat is a simulator) and water, air, strobes, "butt shakers" (subwoofer attached to the seats and transmitting vibrations to the spectator's body and ears), leg tickles and stars," said Halvor Bekkevold, DKM Forum CEO. "We have made our own 3D (4D) Film Begynnelsen with two HD cameras and an Apple solution of two uncompressed digital HD SDI streams," he added.
Medialon controls a Stumpfl Wings Platinum, a multidisplay production and presentation system, which is used to playback HD on two Panasonic Digital HD projectors with polaroid stereoscopic technology. Medialon Manager also controls and synchronizes lighting via ArtNet and 15 chairs with three servomotors and a Galil motion controller through TCP/IP, which is used to activate the specific motion profile for each film.
"Using Medialon Manager allows easy updates, synchronization and changes of all the 4D effects," said Ben Brodie, DKM programmer. "Thanks to the timeline, Medialon Manager offers simple change of the 4D special effects and adapts the special effects so they can match with the movie."
DKM Forum is also using a Medialon Manager panel that has been designed for functions such as changing, starting and stopping a show and for testing 4D effects.
"When we found Medialon Manager, it was like all the pieces in the puzzle fit," said Brodie, adding that it helped with the process of selecting and controlling a variety of devices from different AV suppliers. "Without Medialon Manager it would have been very hard and impossible for us to do this 4D cinema project, but we also have had a very professional support from Medialon during the programming phase."
For further information, please visit www.medialon.com
Leave a Comment: