Milos Truss Supports Projection Screen at Opera Gala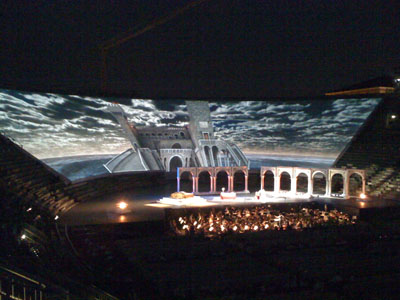 VERONA, Italy — Over three quarters of a mile of Milos M290 QuickTruss was used to construct the support structure for a large projection screen at a gala evening featuring Spanish tenor Placido Domingo, 40 years after he made his singing debut in this north Italian town. The event took place at Fondazione Arena di Verona, a Roman amphitheatre that dates back to 30 AD. The fan-shaped screen was located behind the stage and covered the back seating tiers, reaching the full height of the amphitheatre's top row.
Decima Italia from Padova designed, supplied and installed the projection screen for the performance space. One of the many challenges they faced was ensuring that the installation had minimal impact on the historical site.
The screen also had to be positioned so the dramatic images designed for the show by Enzio Antonelli projected precisely onto the surface.
The screen support was constructed in 22 trapezoidal segments of QuickTruss M290 Trio, which provided the strength and versatility required for the project.
Once assembled, the screen stretched 230 feet in length along the top edge of the venue, with each vertical support approximately 65 feet high. Floor anchors and fixing points along the bottom, top and vertical truss runs enabled installers to meet the need for the structure to stand up to 50 m.p.h. winds. The truss was ratcheted and secured in place by tensioned belts.
The 22 support segments were all slightly different in dimension and angles, and they incorporating 88 Milos junctions, some custom made for the project to ensure that the precise angles could be achieved.
The supports were fitted with 160 adjustable steel supporting bases to help create an even top surface while dealing with the irregular natural surfaces of the amphitheatre.
These were all preassembled and rigged into place using a telehandler and stagehands. Once in position, the trussing supports were fitted with white PVC projection fabric with a 25 percent perforated surface. A series of aluminum tubes were inserted along perimeter pockets in each piece of fabric, and the surface was tensioned with over 500 self-locking belts.
The Decima Italia crew of 40 completed the installation in six hours.
The Placido Domingo 40th anniversary gala performance was part of the 87th Verona Opera Festival. Domingo first sang at the arena in 1969 with Turandot and Don Carlo.
For additional information, please visit www.milosgroup.com.
Leave a Comment: