MilTec, SWG Use PR Lighting Fixtures to Brighten Glasto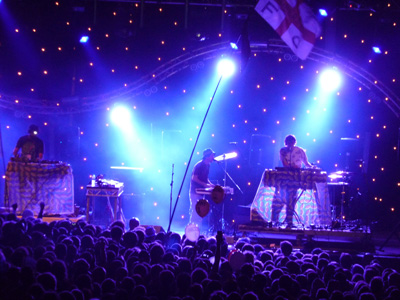 GLASTONBURY, U.K. — MilTec UK Ltd again joined forces with the South West Group (SWG) to supply PR Lighting automated fixtures, including the recently-introduced XLED 590, along with LED effects for this year's Park and BBC Introducing stages at the annual Glastonbury Festival of Contemporary Performing Arts. SWG has been involved in the evolution of the Park Stage since its launch three years ago, and with MilTec UK's input, the company has also been able to keep up to date with the developing catalog of products from the Chinese lighting manufacturers.
"Last year the PR Lighting moving heads were really bright and functional, but the true test for a hire company is how those lights bear up in a live situation," said Mark Bott, SWG operations manager. "These endured a raft of conditions and we didn't have a single fault, so we were more than happy with them and were pleased to be using them again."
This year the presentation was beefed up for acts which headlined Animal Collective and Bon Iver over the three days. Ten PR Lighting XL1200 wash lights and XL Framing 1200s were used for the stage's front, mid and rear lighting trusses and six lighting bars.
The festival also served as an opportunity for PR Lighting's recently-launched XLED 590 to be put through its paces. That fixture uses Osram's Diamond Dragon LED. Each head contains 90 high power 5W RGB LEDs with an average lamp life of 100,000 hours.
Also featuring as graphic effects were 28 of MilTecs' own MT Lighting LED battens. These 1-meter-long IP65 rated units use 252 lensed LEDs to give a bright, focused beam from four individually controlled sections.
SWG also returned with 14 PR Lighting XL250s, which were used last year along with Pilot 150s on the main stage, and two PR Lighting XL700s on the BBC Introducing stage. SWG also provided 16 MT Lighting battens as audience blinders.
"This was the first time I had worked with PR Lighting fixtures. They had been recommended by MilTec and I must say I was hugely impressed," said Tim Smith, SWG's lighting designer.
Smith added that they had not only worked closely with PR Lighting's U.K. distributors but also with a local company, James Ashdown's Automated Ltd., who supplied the XL1200 wash lights and XL250s.
The event was not without challenges, however, including the need to rig the effects within the fabric of the Serious Stages 16m Supernova orbit stage.
"We had to provide a lot of rigging to support a 4-tonne load because we were unable to fly the effects," Smith said.
All the lighting on The Park main stage was triggered from an Avo Diamond 4 lighting desk, while a Pearl Expert controlled the XL250 effects on the BBC Introducing stage, where SWG's Lewis Beal handled the lighting programming.
One week earlier Beal had been on duty at GoldCoast Oceanfest 2009 — a three day Surf and Music festival held at Croyde Bay in Devon, U.K.
There, the lighting dynamics were built around 12 XL250 automated heads, with Beal using the fixtures' interchangeable color gobos and motorized zoom lens and iris. These fixtures were complemented by four of the XLED 590s.
"The PR Lighting fixtures behaved superbly throughout both events, delivering bright, powerful colors, with a fast response time from the Avolites board," said Graham Gosden, MilTec UK's technical director. "They also showed their durability when functioning in outdoor conditions — and performed flawlessly at both locations.
For more information, please visit www.pr-lighting.com.
Leave a Comment: