Miss Universe Slovakia 2009 Lit by Robe Gear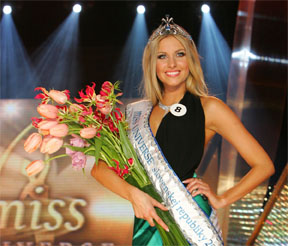 BRATISLAVA, Slovakia — LD Martin Kubanka used a rig with over 100 Robe lighting fixtures to light the 2009 Slovakian Miss Universe Pageant. The show was staged and televised live by STV1 at the Sibamac Arena before a live audience of 4,500. Thomas Eibner directed the event, which featured 12 finalists. Kubanka also worked closely with DOP Vladimir ÄŽurčanskÅ· and set designer Martin Klang.
This year, the creative theme was nature and the scenic elements reflected grass and foliage, sea and sun. The overhead trussing configuration followed the wide lines and gentle V-shapes of the stage set below.
Kubanka used 50 Robe ColorSpot 1200E ATs, 24 ColorWash 1200E ATs, 24 ColorSpot 575E ATs and 20 ColorMix 575 ATs for a lighting design that included walls of beams for the wide angle camera shots.
The Robe fixtures were rigged over the stage and audience and on the sides of the set. Scenic blades of grass were illuminated with the ColorMixes positioned on the stage deck and from above by the ColorSpot 1200s in the truss.
Plotting some complex combined moving light effects cues into the grandMA full size console, Kubanka made the grasses wave in the wind, created different weather conditions and generally made the set come alive with three-dimensional lighting effects.
Kubanka said the color correction facilities on the Robe ColorSpot and Wash 1200E ATs helped create the soft 3200K temperature required to highlight the contestants' skin tones on camera.
"I have lit this show for the last 11 years," Kubanka said, adding that he's been using Robe gear since it was first added by Slovakian rental house Q-99. "I find Robe the most reliable units available and for a show like this, I know I can really trust the color correction and other specific effects that I need to use."
Michael Schmidt using a grandMA full size console to program the lighting, Tomas Lecký was the video operator. Q-99 also supplied a number of other moving lights and effects, a large generic lighting rig, followspots, lasers and all trussing and rigging.
Miss Universe Slovakia 2009 was won by Denisa Mendrejová, who goes to the Bahamas in August to represent the country in the 2009 Miss Universe Final.
For more information, please visit www.robe.cz.
Leave a Comment: