No Downturn in Innovation at Prolight + Sound 2009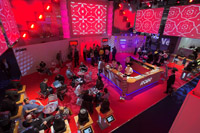 FRANKFURT, Germany — The worldwide economy may be in a funk, but there was plenty of innovative lighting ideas on display at Prolight + Sound this month. Pictured here is Robe's booth, where the Robin 3 Plasma Spot took center stage. Chauvet, PR Lighting and SGM were among the many others bringing new ideas to this year's show.
Robe's booth featured the 3 Plasma Spot, the Robin 300E Spot and Wash fixtures and the REDMix 2-188 Outdoor LED wash light. The stand, designed by Robe UK's Nathan Wan, was lit with a combination of the company's Digital and RED series products.
Robe ran a separate demonstration area throughout the four show days to give attendees a look at how the new products perform. The company said its demo area also provided an opportunity for end users to trade notes and tips, and served as a de facto user forum. Robe's technical team was also on hand.
"The show was extremely busy for us," said Harry von den Stemmen, Robe's International sales manager. "On the first two days many of our international distributors and customers visited the booth, and while the Friday proved a little quieter, it was also an excellent opportunity to speak to new people.
"Saturday, the public day, also offered a great opportunity for us to walk the floor and catch up with some of our industry friends and colleagues," von den Stemmen added.
The Robin 3 Plasma Spot was a key focus at the show. Robe announced that it will soon be delivering the first 1,000 Robin 3 Plasma Spots to 10 rental and production companies around the world who will be working as Robe launch partners.
Chauvet's booth was also busy with activity, according to international sales manager Gerry Zigman. "There was a lot of excitement and our booth had a constant flow of traffic," he said, noting the company's introduction of the Legend 4500, the Legend 6500 and other professional fixtures.
The Legend 4500 is a compact 10- or 14-channel intelligent LED moving yoke wash particularly suited for production, stage and architectural applications, with an output comparable to a 300W discharge wash fixture, and full RGBW mixing capability.
Distinguishing features include adjustable color temperatures (preset values range from 3,200K to 10,000K), the capability to trigger instant color changes, discreet operation and a casing design focused on stability and ruggedness.
The unit comes fitted with a total of 54 high power LEDs (720mA red; 1,000mA blue, green and white), and 15° lenses. It produces a long-throw wash of 12,350 lux at 2 meters, with a beam angle of 10° and a field angle of 22°.
The Legend 6500 offers stability and ruggedness with a 10- or 14-channel intelligent LED moving yoke wash particularly suited for production, stage and architectural applications, with an output comparable to a 575W discharge fixture and full RGBW mixing capability.
Like the Legend 4500, this fixture also offers adjustable color temperatures (preset values range from 3,200°K to 10,000°K), the capability to trigger instant color changes and discreet operation.
Also at the show was the COLORado 2, an indoor/outdoor color wash fixture that can be used for touring or to bathe an architectural feature in warm pastels. It extends the COLORado series with 48 2W to 3W LEDs including white. It responds to 3, 4, 5 or 9 channels of DMX control and has an IP66 rating.
Chauvet was also showing its hard edge Q-Spot 150 LED featuring a 9- or 11-channel DMX moving yoke and an output comparable to a 150-watt discharge lamp. It comes with an eight-position color wheel plus white, and also features a seven-position rotating slot-and-lock gobo wheel with a three-facet prism. It weighs in at 13.5 pounds (6 kilos).
Chauvet's booth also testifies to its commitment to Europe, especially Eastern Europe, including the Ukraine, Russia, Lithuania and Poland,
"We've recently signed on several new distributors and met a number of new people at the show who will probably become distributors," Zigman said.
PR Lighting, meanwhile, put its new StarBrite LED cloth to work, using the product as a shimmering backdrop to its booth, which also featured the company's XLED 590 wash light.
The XLED 590, which is equipped with 90 Osram Diamond Dragon 5W RGB LEDs, each of which offers up to 250 lumens, according to the company, produces an output that PR Lighting sales director Cui-Lin compares to a 1200W discharge lamp.
Cui-Lin also touted the unit's color mixing and the uniformity of the white beam. The standard beam angle is 22° but 10° and 35° options are also provided.
"We are delighted with the response we have received to both this and the StarBrite, which proved so popular with customers that we received an instant order for the display backdrop," Cui-Lin said.
The StarBrite LED cloth, which is IPX3-protected (against spraying water), comes with a dedicated flight-cased PR-8710C controller. It also comes with 12 preset programs for the 144 LEDs (18 x 8 sequences), with a 30,000-hour lamp life.
SGM's stand also had plenty of innovation on display, with the Giotto Beam 1500 and Giotto Spot 700 moving head fixtures, the new Stilo LED color changer and the Full Color versions of Palco 5 and Genio at the stand, which also made room for the latest (2.18) release of the Regia 2048 console and the Pilot 3000 version 1.3. The company also presented the SGM Dotto LED range, specifically dedicated to architectural applications.
Robert Juliat, which celebrates its 90th year as manufacturer of lighting products this year, chose ProLight + Sound to launch Horus, a re-working of its popular RJ 852 cyclorama lighting fixture, which now includes features such as an easy-load filter holder which has been designed to eliminate light spill. The new motorized versions of the 1800W HMI Victor and Flo followspots were also on display.
"We were glad to see an impressive turnout throughout the four days of the show," said Lionel Garraud, sales director. "Everyone had been speculating on how the current financial crisis would affect the show but we were kept as busy on the stand as usual."
For more information, please visit www.robe.cz , www.chauvetlighting.com , www.pr-lighting.com, www.sgm.it and www.robertjuliat.com.
Leave a Comment: