Noise Ensemble Lit with SGM Idea 250s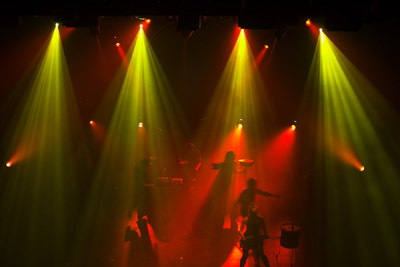 CAMBRIDGE, U.K. —Noise Ensemble, a percussion group, toured the U.K. with 30 SGM Idea 250 moving lights supplied by Snap To Black, the tour's supplier of lighting, AV, crew and production management. The purchase was made through SGM's U.K. distributor, Lightfactor Sales. Lighting has always been an essential element of the show and part of the original concept since its inception at Edinburgh Fringe Festival in 2004. The latest tour's design is again created by Ben M Rogers, who has been involved with Noise Ensemble since Edinburgh, and is based on bringing edgy, moody multilayered drama to the performance.
For this tour, Rogers wanted to increase the production values and create a new setting and ambiance with lighting. The goal was to use the ample complement of moving lights to create the aura of an arena show to a theatre space. The result has been called "witty, highly entertaining and intense."
The onstage touring rig, with a mix of conventional and LED fixtures along with the SGMs, is combined with front of house lighting at each venue, with the re-lights overseen by Snap To Black's James Henshaw.
Henshaw and Rogers have worked together on several previous projects in the U.K. and abroad. Henshaw formed Newcastle-based Snap To Black last fall, with the SGMs serving as the company's first major hardware investment.
The show is heavily backlit. All the fixtures are on or over the stage, with four Idea 250 Washes and 2 Spots upstage on the deck and another four Washes in the boom positions, leaving the remaining 18, six of which are Washes, rigged overhead.
Both the position and fixtures themselves bring flexibility to the show, allowing the creation of a plethora of atmospheric, provocative looks for the two-hour show.
Shafts of heavily saturated colored beams slice through the 10 performers from all directions, and many dramatic subtleties are added with interactive multi-gobo looks, as the lighting effectively becomes a key part of the performance, and an alternative to an elaborate set.
"On previous tours, Noise Ensemble had featured a mixture of different moving head sizes and types, but Ben really wanted continuity on this one, so it was definitely the right decision to go with using an entire rig of one brand and size," Henshaw said.
He was impressed with the intensity of the Idea 250's output. The Idea's feature options enable them to achieve both simple and complex effects quickly and easily, added Henshaw, who went on to describe the price as "unrivalled" and the service and support from Lightfactor "excellent."
The SGMs are also proving to be highly reliable on tour, where they are being operated by Kevin Thwaites using a Frog II console.
For more information, please visit www.sgm.it , www.lightfactor.co.uk ,
www.snaptoblack.com , www.benmrogers.com and www.noiseensemble.com.
Leave a Comment: