Northern Light Updates Minack Theatre House Lighting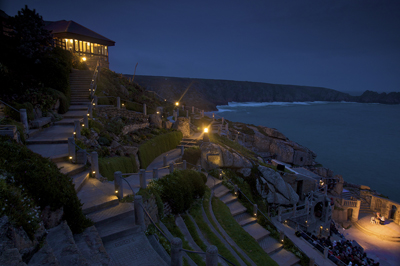 CORNWALL, U.K. — Even outdoor venues need house lighting systems, and Northern Light's Chris Watts and crew were challenged with the task of upgrading house lighting for the outdoor Minack Theatre near the southwest tip of England. The project included new cabling, fixtures and DMX distribution. "It truly has been a joy to work on such an exceptional venue," Watts said. "An open air theatre presents its own unique challenges, particularly in terms of Mother Nature. The bulk of the installation took place in January during extremely inclement weather, but we stood up to the wind and rain and finished the job on time and on budget. The only other real issue was the distraction provided by the beautiful scenery."
The project included site testing, fixture removal and replacement, cabling, power supply units, DMX distribution, control and commissioning.
New Blues System LED fittings were manufactured by Global Design Solutions Ltd. (GDS) and supplied by distributor TMB.
An ADB Swing12 was chosen for its flexibility. The two sets of 12 faders mean that full on and lower glow states can be set up and the fader controllers allow fading between each state or fading out of both using the master fader.
"The Minack Theatre house light redesign was the result of months of cooperative planning and we are thrilled to see it come to life," said Sarah Cox, TMB's architectural sales director.
The existing house lighting in the theatre consisted of 124 exterior lanterns containing 25 watt lamps distributed throughout the auditorium.
Phil Jackson, Minack Theatre Manager, said: "As you can imagine, that many 25W lamps got through an astonishing amount of power. The replacement of our house lighting came about as a direct result of our aim to cut power consumption, embrace new energy saving technologies and reduce time spent on maintenance."
Northern Light removed the existing fixtures around the entrance buildings and auditorium and replaced them with GDS LED Warm White Domes. In addition, 16 GDS LED Blue Domes were installed for the backstage area and two GDS LED 10 degree beams were positioned to highlight the nameplate citing Rowena Cade as the creator of the theatre.
"For many reasons, GDS LEDs are perfect for this venue," said Matt Lloyd of GDS. "Principally, the Minack's aim of a reduction in power consumption is now easily achievable and the longer life of LEDs ensures less time performing routine maintenance. The domes are sealed IP rated fixtures, meaning that the risk of seawater finding its way into lamps is vastly reduced. Finally, these LEDS are fully dimmable, ensuring that the capacity for ambient lighting is maintained."
The addition of the LED domes — which are scattered all over the auditorium — enables a warm glow when night falls to complement the unique setting.
Part of Northern Light's installation involved definition of existing cable runs and termination of cables in either new or existing back boxes. The company was also responsible for the installation of control power supply units, DMX outlets and DMX patch panel in the control room.
In total Northern Light put in place 750 meters of 4-core 1.5mm SY cable, 500 metres of ProPlex DMX cable and reused existing site 4-core SWA.
"Getting the fixtures in place really was the easy part of this project," Watts said. "The part we really focused on was creating the circuits and a plan of where each circuit on site is — there was nothing in existence before."
"Finally having a circuit plan of the auditorium pleases me greatly – ease of general maintenance has increased considerably," added Theatre Manager Phil Jackson. "The team at Northern Light truly excelled themselves in the execution of this project and I'm extremely pleased with the results."
Northern Light also provided spare parts for the existing ADB luminaires that are part of the stage lighting. These lanterns have been used for many years and are appreciated for their ability to withstand the adverse climate conditions.
"The Minack Theatre is the second high profile technical installation that Northern Light have carried out in the area in the past year – the team was also responsible for an upgrade of dimming and associated items at the Hall for Cornwall in Truro," said Colin Cuthbert, managing director of Northern Light. "The team thoroughly enjoyed working on such a beautiful venue in such a picturesque locale."
For more information, please visit www.northernlight.co.uk , www.gds.uk.com and www.tmb.com.
Leave a Comment: