Nova Flower 2Ks Designed for U2 Tour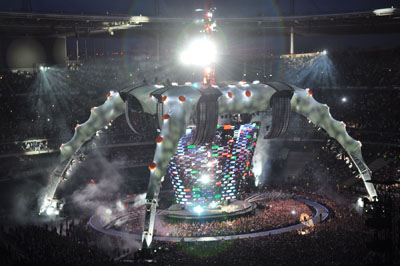 BARCELONA — PRG Lighting is using Nova-Flower 2Ks for the U2 360 world stadium tour as part of show director/designer Willie Williams' lighting design. The Italian manufacturer, Novalight, said the fixtures were developed specially for the tour, and are now in full production. Seven of the Nova-Flower 2Ks are being used with U2's rig, positioned around the stadiums in the audience bleachers, pointing back at the stage. The fixtures were sold to PRG, U2's main lighting contractors, by Lightfactor Sales, Novalight's exclusive U.K. distributor.
"They are an incredibly powerful effect, even contending with all the other lighting and LED screens, we're really impressed with their effect," said PRG's group asset director, Paul Weaver. He added that they are withstanding the rigors of touring.
Before the tour got underway, Williams initially examined the original 1.2K Nova Flowers among other products, as he wanted a powerful 'dominator' style effect for specific sections of the show. He liked the build quality of the units, and the Nova Flowers also had the benefit of color mixing and various effects, but he needed something brighter than the 1.2K unit for U2.
Novalight responded by producing the 2K version. These eight units (seven plus a spare) are the first Nova-Flower 2Ks production units out of the factory in Viterbo, and the first in the world to go on the road.
Weaver said the crew was confident that Novalight products would be rugged enough for an arduous tour. PRG had previously used the High Ground sister product on Robbie Williams' 2006 tour.
Lightfactor's Peter Coles said, "Novalight are a very creative company and passionate about their work. They were extremely keen to accommodate Willie's specific requirements, and it's great to work with a manufacturer who has the attitude and flexibility to deliver solutions like this on demand."
Nova-Flower is designed to be used for effects like backlighting and silhouetting performers. It has CMY type mixing, a rotating reflector (in both directions), pan/tilt and remote lamp re-strike. The fixtures can also be used in standalone mode programmed via the display buttons on its base. They have a weather-resistant IP 43 rating.
The U2 fixtures are being tech'd on the road by Andy Beller. The PRG 360 account handlers are Robin Wain (UK & Europe) and Tim Murch (U.S.) and the tour's "Claw" set was designed by Mark Fisher of Stufish.
For more information, please visit www.lightfactor.co.uk.
Leave a Comment: