Perth Truck Show Gala Lit with Robe Gear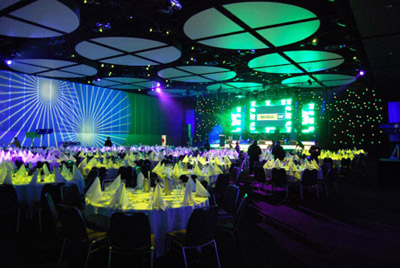 PERTH, Australia — A Robe moving light rig was used by Clifton Productions to illuminate the Gala Dinner of the 2009 Perth Truck & Trailer Show, staged in the Ballroom at the Perth Convention Centre (PCC), Australia. The dinner event's lighting design was created by Michael Wood of Clifton Productions' Perth operation. It used eight Robe ColorSpot 1200ATs, eight Robe ColorSpot 700E ATs and eight Robe ColorWash 1200ATs, which beamed and projected visual effects and colors around the room.
LED wash lights illuminated the underside of the stage, and there was a center-stage projection screen, together with LED panels around the perimeter of the room for additional eye-candy.
The event was attended by close to 400 guests. "We had rave reviews from many of them," said Cliftons' Ed Matthews. "Our Robe products continue to impress."
Clifton Productions was the official rigging and lighting contractor for the biannual Truck & Trailer Show. The three-day exhibition occupied six pavilions of the PCC venue and attracted over 8,000 attendees.
For more information, please visit www.robe.cz.
Leave a Comment: