Pink's Funhouse Tour Supported by Brilliant Stages, XL Video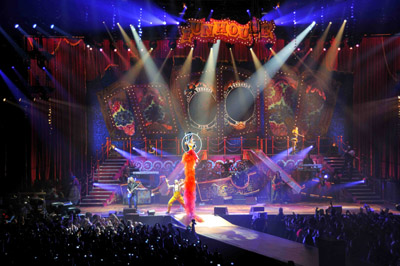 LONDON — The European tour supporting Pink's fifth album, Funhouse, featured a set design by Mark Fisher of Stufish and lighting and show direction by Baz Halpin, with sets manufactured by Brilliant Stages. XL Video UK supplied cameras, PPU, LED surfaces, media servers and projection.
Stufish's Nicoline Refsing contacted Brilliant Stages' Tony Bowern before the tour, and Brilliant Stages, which had worked Stufish on Take That's Beautiful World tour in 2008, was able to design and build the set in just over a month.
To create the set's 1930s carnival theme, Brilliant Stages constructed a large, rear walkway edged with safety chains. Two metal slides lead from the walkway to the stage, forming a significant part of the choreography for the performers, along with zigzag access steps on either side for which the Brilliant Stages team had to calculate intricate, precise angles and dimensions.
XL Video's video screens were located towards the back of the stage and supported by picture frames, which were also the work of Brilliant Stages.
In the foreground, three risers were designed to look like "waltzers," a carnival ride where cars spin around on an undulating track.
"We achieved this by covering the front fascias of the risers with printed Scana-chrome, using artwork created by Nicoline, Mark Fisher and Ric Lipson at Stufish," said Bowern.
"The rails and waltzer edges were then powder-coated and distressed to create that old fashioned waltzers-style and any further painting and distressing of the original artwork was carried out on-site by Jacqui Pyle," Bowern added.
The fairground artwork also continued on to the floor vinyl and out along the walkway to the B stage, into which Brilliant Stages inserted two trapdoor-style decks. These were manually operated and lifted up to reveal a water tank into which Pink is lowered on a trapeze.
Brilliant Stages then created the large heart-shaped bed with a leopard-skin base, which forms the centerpiece of several numbers, decorating the headboard with psychedelic Scana-chrome artwork, and also supplied the unusual chaise lounge.
"The chaise had to have holes cut through the back and base and be able to conceal several dancers who were then directed to put their arms through the holes to grope the singer," Bowern noted.
Both chaise and bed were placed on castors with truck locks to facilitate fast deployment on and off stage and were upholstered by Karl Wilson of Elstree Drapes.
A sign reading "Funhouse," outlined with carnival-style lighting and LEDs, rose above the set.
Richard Young was the production manager for the tour, and credited the set for being "an excellent build quality and it came in both on time and within budget."
Video, meanwhile, played a key role, with both high and low resolution surfaces used for the tour. XL Video supplied two Barco MiTrix panels set upstage and on both sides of a central section of lightweight 7mm F-LED for a six-part surface that is about 40 feet wide and 15 feet deep.
The MiTrix sections were built as six by four panel frames, modified by XL Video to fit the shape of the fascia, complete with a custom cable management system devised to minimize the run distances.
Richy Parkin oversaw the live mix, sent mostly to four side screens, but also appearing across the onstage LED at strategic moments.
The account is being project-managed for XL by Jo Beirne and Phil Mercer, who credited Halpin and Young for being willing to spec "a brand new screen without even seeing the 7mm beforehand."
Geodezik's Olivier Goulet worked with Halpin on the playback content. It ran for about 85 percent of the show and was all programmed into a Catalyst media server running on four layers and triggered by lighting director Trent O'Connor's Martin Maxxys control console. It was treated and masked to fit the six different shaped screens via the Catalyst.
Before the tour got underway, Larne Poland joined Halpin and Goulet as video consultants, and they all worked on developing camera treatments for the show. Pink herself was also involved in all creative elements of the show.
In addition to the onstage screen, XL supplied four side screens. The two downstage ones measured 16 by 12 feet each and were flown at about 60 feet high on their own trusses to cover the upper tiers of the arenas. The other two were flown side stage, at a 90-degree angle, covering the ends of the 270 degree format. Each was fed with a Barco R12+ projector.
There were a total of five of XL's Sony D50 cameras in use. Two hand-helds were onstage and used from the stage left side of the pit, with one on track-and-dolly, also in the pit, on the stage right side of the thrust.
Both hand-helds were equipped with wide angle lenses. Stationed at FOH was the fourth camera, complete with long lens, and the last one was a hot head clamped to trussing above the B stage, which covered all Pink's movements up and down the thrust and at the back of the stage. This setup got some interesting shots and added a different spatial dimension to the camera mix.
The camera treatments were all achieved using inbuilt effects on Parkin's Kayak 2.5 ME mixer, the feeds from which were output to screen via the Catalyst.
At some points during the show, such as the song, "Sober," the palette went to stark black and white, then flipped to full color —representing a burst of reality — when Pink starts an acrobatic trapeze routine, before it reverted once more to a dirty, flickering vintage image.
The mixer was programmed to do an overall film "field drop" look with a subtle flicker to de-clean the images and introduce a slightly gritty cinematic look.
Other individual songs had their own special I-Mag look and feel too. Engineer John Steele ensured that the cameras were calibrated to compensate for this, and to enhance the set and flamboyant costumes, rather than delivering clinical technical shots.
The tight choreography kept the XL Video crew members busy, and keeping up with Pink, who isn't still for longer than a few seconds at a time, was a challenge in itself.
The Funhouse tour was due to continue to Australia from late May through to August before returning to Europe in September and running through until late December.
For more information, please visit www.brilliantstages.com and www.xlvideo.tv.
Leave a Comment: